Joe Walsh as the Analog Man

---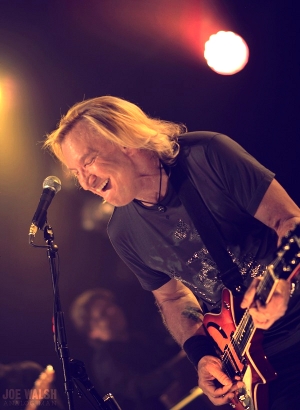 JW on IHeartRadio, June 4, 2012



Ahhh… It's fun to have a New Album Day! The sounds! The smells! The reading! Yep, I got the hardcopy so I could enjoy it all. Thank goodness for downloaders there's a digital booklet that gives you all of that except the smells.

Before I dive into the album, let me give you my history with Joe so you know where I'm coming from: I've followed Joe's work since 1970 when my brother gave me The James Gang Rides Again album right as I began learning guitar. Joe's professional career led my learning: as he developed, I soaked up each new skill he displayed. I loved Joe's ability to craft excellent fills and rhythm parts and his concise studio leads without a wasted note that continued developing even as they disappeared down into the fade-outs. I would ride the volume control to catch the cool bits lost at the end of all of his songs. I loved Joe's solo work through the 1970s, and his work with the Eagles, though I'll have to admit that my interest tapered a little as alcoholism began to blunt his abilities and writing skills. Then in 1994, hell froze over and he got clean and sober for the Eagles reunion. He's spent the years since on the road with the Eagles, displaying his precision and pyrotechnic abilities once again. And now, twenty years later, he's back with his first solo album.

The album name and name of the first single, Analog Man, refers to Joe's perception that we are being sucked into a virtual world that doesn't exist. In an interview with Rolling Stone Magazine, Joe said,

I'm not saying I'm some old fart who just came out of the woods, and I'm not saying analog is better. The whole analog thing is observations on what's going on, not really a judgement. I know about digital recording. We cut Long Road Out of Eden digitally, but I like vinyl. I like reading the album covers and I like side B. I like cassettes. We did the last album with recording tape and knobs. This album I did with a hard drive and a mouse.

I had to make some adjustments. We all did. There is a whole new technology, but there is also a whole new world that's virtual and that doesn't really exist. We all spend more and more time in there and we get lost. Meanwhile, our bodies sit in chairs and wait for our minds to come back. I don't know if it's working for us, or if we're working for it. I know that it ate the record business, and I know it ate radio and it ate intellectual property. I hope it doesn't eat me.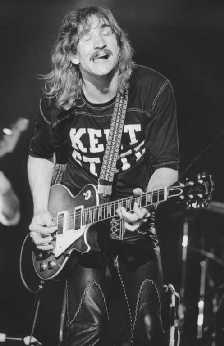 JW at the Winterland in San Francisco, 1972



This new album contains something for everyone who likes Joe. It isn't as much a guitar god album as a singer/songwriter album in the vein of 1975's So What? But this just in: no one except guitarists listens to guitar albums so it behooves any artist to broaden his appeal. The album contains many different types of songs – confessional, celebratory, admonishment, venting, good time rock & roll, and techno/trance. Joe brought back some old friends: bassist Kenny Passarelli and drummer Joe Vitale from his Barnstorm days play on "And the Band Played On." There are new faces as well: Joe's old buddy and new brother-in-law, Ringo, plays on a song as well. Lynne, the centerpiece of the Electric Light Orchestra, a member of the Traveling Willburys, and producer for Tom Petty, produced the album.

A really happy, homey outlook pervades several of the songs. The attitude is reminiscent of that shown by David Gilmour on his On An Island album, put out when David was about the same age as Joe is now. Being a real family man, I'm drawn to the song "Family," that is about his joy at being part of a real family for the first time in his life, with all the appendages like Thanksgiving and family gatherings. Everyone I've played it for loved it as well. If you've seen the Eagles' Farewell I: Live in Melborne DVD, you'll know his autobiographical "One Day At a Time," but with Jeff Lynne he rebuilt it into a "California-by-way-of-Birmingham" song with Jeff's trademark Rickenbacker electric 12-string sounds. Joe's songwriting and arrangement isn't missing anything from the early-mid '70s. Roy Orbison's wife, Barbara, hooked Joe up with Tommy Lee James, a writing partner from Nashville, to help him put together and finish some of the songs. The resulting word-smithing is excellent.

Throughout the album Joe shows his penchant for absolutely tasteful, great guitar timbres. On the ballads, Joe shows the same sensitivity and that special minimalist touch he always had. On the harder songs he comes out swinging with some pretty cool and tasty moves. As usual, there's at least one song with an acoustic 12-string rhythm part chugging along with the hi-hat. The biggest surprise is probably the trance-influenced "India." Joe encountered some live trance performers during a trip to India and was inspired to see what he could do with the medium. The short-attention-span-theater approach of trance seems to dovetail with his long-time love for synths and experimentation, with a really interesting instrumental resulting.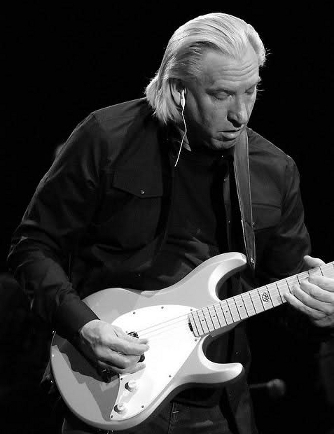 Some have complained that the overall sound of the album isn't exactly unified and others have noted that there were two mastering engineers on the project, but they seem to be overlooking the fact that the two are colleagues at the same firm. After putting up the album on the studio monitor speakers for a serious listen, it becomes clear that the instrument production rather than the mastering played a big part in the differences. Where you hear the production influence of Jeff Lynne, the bass is less full and solid, the trebles are less crisp, and everything is a bit more ambient. That was a hallmark of Jeff's sound from early on. In the other material produced by Joe, the classic California sound is more prevalent, with more solid bass and ultra-crisp highs. No mastering engineer can put in what isn't there so the two bodies of work remain a bit dissimilar. My main complaint with the mastering is that it is a little heavily compressed – after listening for a while on a good system you might feel like you are being pushed through the back wall a bit and your ears may begin to fatigue. I can say that the quality of the CD is much improved from all the streamed versions I've encountered – apparently this is the sort of album that just doesn't survive data compression well. They do exist.

The extended release is definitely worth the two bucks extra. On that version, disk one comes with two additional songs. The first is a comedic blues track, "Fishbone," written about a real incident when his wife got a fishbone stuck in her throat. Would it really be a JW record without a comedy track? The second is a fun jam track featuring Little Richard that Joe dug out of a box of tapes from his James Gang days. A bonus second disk is also included, a DVD that contains high-quality copies of the promotional videos that were published leading up to the CD release. The cover and booklet go into great detail, explaining a lot of what went into the songs and recording – Joe is really forthcoming on the motivations as well as who did what and who supplied which parts of the songs. It all makes fun reading for a record-o-phile like me.

This looks like an independent release with a distribution group (Concord/Fantasy) getting it out into the shops.

All and all, this is a great album that serves up a bunch of earworms that will spend days wandering through your mind and driving you crazy. It is available at all the usual outlets in at least three versions. Four days after its release, it has already hit #5 on the iTunes top rock album chart. Joe is spending the Summer and Fall out on the road promoting the album with a band he found in Austin, Texas, so catch him as he comes through your area.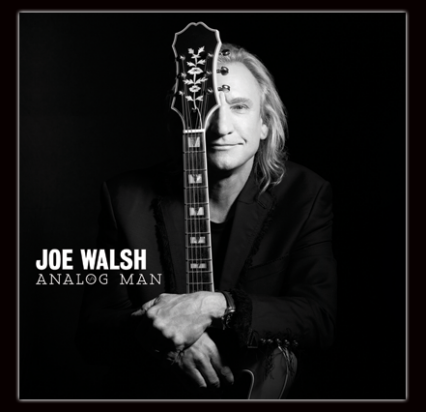 UPDATE 06/15/2012 Analog Man debuted this week at #12 on the Billboard 200 chart. Congrats, Joe.








UPDATE 08/30/2012 Just how strong is the album? Strong enough to coax me to Vienna, VA, to see Joe play a the Wolf Trap National Park for the Performing arts. ROAD TRIP!!! It got off to a hard start with us running a tad behind and then things took a turn for the worse: I got a tire pressure alarm in the MINI Cooper on the way out of town and quickly limped off the interstate to a Goodyear dealer. It turned out that the right rear runflat had picked up an unwanted hitchhiker: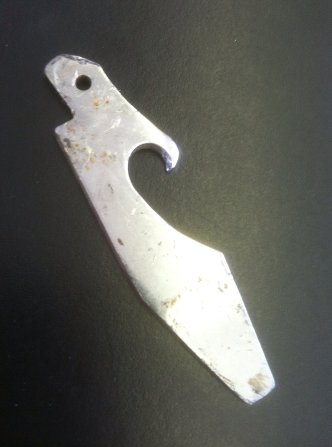 Anyone missing a bottle opener blade? There was only 3/8" of it protruding from my tire - it was stopped inside by the rim. The guys at the shop replaced the tire under road hazard insurance. An hour and a half and eighty dollars later we quickly hit the road again and hoofed our way up to Vienna. We arrived with just enough time to drop our stuff at the hotel, find the venue, and take our seats. Phewww! Catch our breath.

Wolf Trap is a great venue and our box seats gave us a great view of the stage. The band was hot and tight and Joe showed off his excellent tones and guitar work once again. This despite the two drunk, middle-aged guys who wanted to yak loudly throughout. I eventually had to shush them. What has happened to our manners? Joe started right on time playing "Welcome to the Club." He played for an hour and a half, covering lots of ground from his early days in the James Gang though the seventies and on to the present. I can say that he has lost neither his touch nor his sense of humor. He chatted up the crowd between songs, cracked jokes, and warmly greeted his Eagles guitar buddy, Steuart Smith, who was in the audience. The band was tight. They are a bunch he found in Austin that featured two drummers, a bassist, a guitarist, a percussionist, a keyboardist, and three background vocalists. With that force he was able to reproduce his arrangements really well with plenty of depth.

His second song, "Life of Illusion!" featured acoustic guitar, a big maple job that had the body shape of a Breedlove. I couldn't read the headstock even with binoculars. I was fascinated that he played a pair of 3rd Power American Dream and British Dream amps. One offers brown face and blackface sounds in one package and the other offers JTM-45 and Vox AC-30 sounds in one package. Tasty, indeed! He changed guitars nearly every song, going back and forth between a bevy of Strats, Dusenbergs, an Ibanez and a Les Paul.

No photography was allowed but I did get a stage shot after the show:



(Click for larger shot)

Official shots from Joe's website: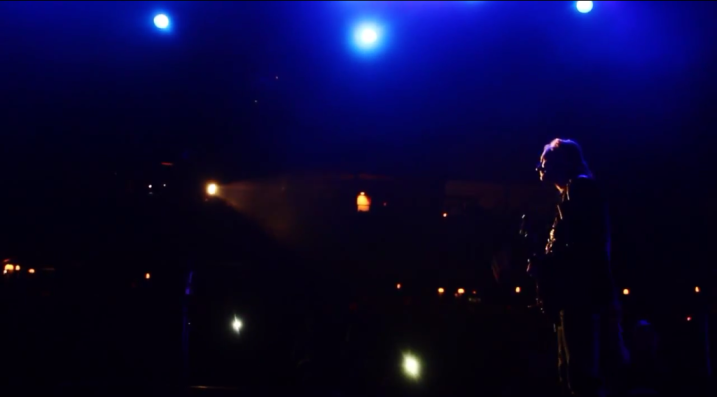 (Click for larger shot)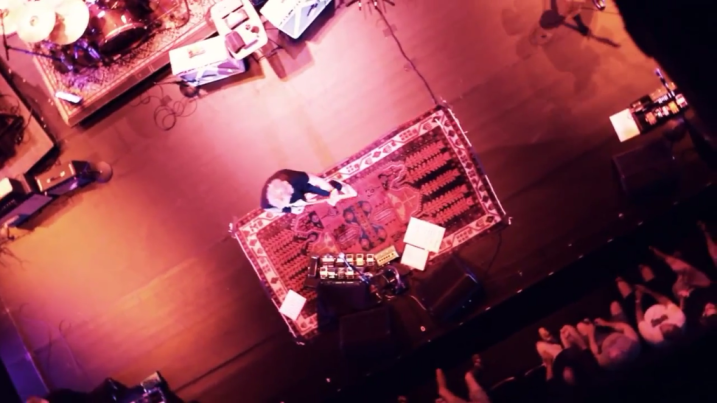 (Click for larger shot)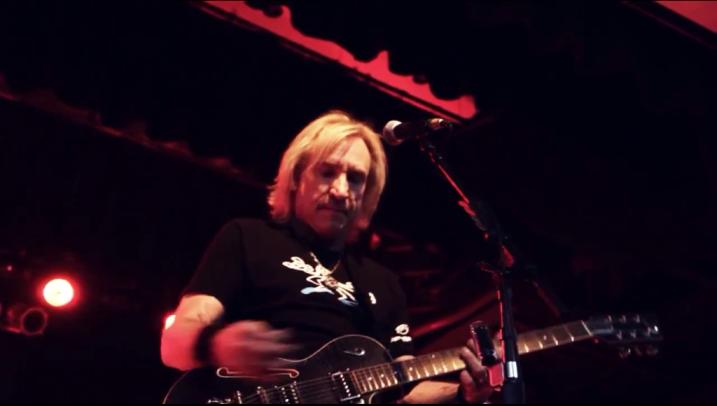 (Click for larger shot)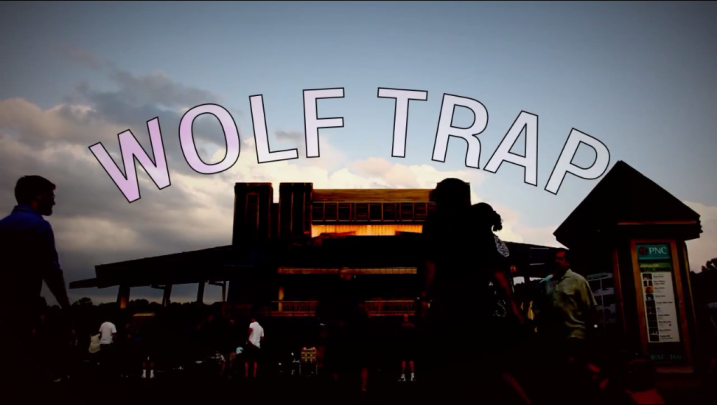 (Click for larger shot)

A team member came out between songs and shot a panorama of the crowd:






Someone captured a vid of "Turn to Stone" from the show:

I think I saw this person with his phone up!



Joe's Set List (8/13/12) from memory:

Welcome to the Club
Life of Illusion
Walk Away
The Confessor
Analog Man
I Shall Be Released (dedicated to Levon Helm)
Lucky That Way
The Bomber/Closet Queen/Bolero/Cast Your Fate to the Wind
Turn to Stone (extended jam)
-- Band Intros --
In the City
Personal Manager (Albert King cover)
Funk #49 (extended drum jam)
Life's Been Good
I.L.B.T.s
Life in the Fast Lane

Encores:
Rocky Mountain Way
All Night Long


=

=