NRD: DENON AVR-S940H 7.2 A/V RECEIVER

---


05/11/2020

"NRD"
Pray what, besides a vowel-less version of the word for "geek" is a "NRD"? Well we've heard all sorts of "New" days: New Guitar Day, New Amp Day, etc. How about "New RECEIVER Day"?


As we entered the COVID-19 isolation my sixteen-year-old Denon 5.1 receiver was already gasping. Truth be told, it had always been a touch under-powered for my front main speakers, pair of UREI 811C monitors. I told myself that because I had them set up crossovered to a pair of powered subwoofers meant they didn't need that much juice. They actually sounded pretty darned good anyway. In fact, my array of the UREIs, a pair of Sony subwoofers, Boston Acoustics A150 surrounds, and a Boston Acoustics HS225 center speaker, already sounded as good as most theaters I'd frequented, including some THX certified theaters, but around Christmas the receiver had developed a quiet and intermittant sort of "bacon fry" background noise in the right-front channel. I soldiered on despite the fact that I spend my professional life chasing and eliminating background issues from audio and don't want to deal with it at home. It seems that in my maturity I've developed some patience that made it possible to balance between our family's budget and the acute irritation of a full-time audio denizen living in my own rig and babbling on incessantly at me. But over time it grew slowly to the point where it challenged the main program from the right-front channel. As it rose, it took its toll. Like the frog in the frying pan I woke up one day and found it nearly intolerable. I no longer rushed to put on an album when I got home. Though my wife and I love to watch a movie in the evening, towards the end it was demolishing my "suspension of unbelief" and I could hardly wait to extinguish the racket from the instant the evening movie was over.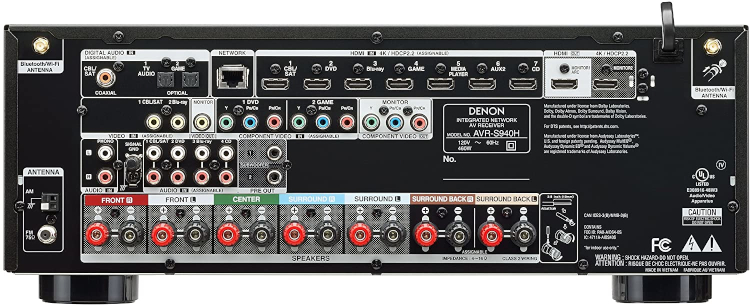 Say hello to the backside. Click for larger pic.



Then the COVID-19 pandemic forced me to take my work and my workplace home. At work I use a $10,000 monitor system in a monitoring environment designed from the ground up by an acoustic designer. While I wouldn't be able to duplicate the work environment, I needed a clean, accurate monitor system to mix on. Monitor systems are our eyes on the world - we use them to listen to our work, we use them to analyze other's work, including the work of those who are best in the business, and we use them to compare the two to understand what me must do to achieve the industry standard. I already had the monitor speakers, but my power amp was a real issue. The bacon fry racket was loud enough to mask other background issues in my work. Once again, I soldiered on until the issue grew to acuity. And then one night my lovely wife ended up audibly scratching her head in front of me about what to give me for my birthday. I had already done my homework. I suggested a particular model at a particular price point so we threw in together and made it happen. It is a Denon AVR-S940H, 7.2 receiver with 185 watts of discrete power per channel and dual preamp outs for the powered subs. Though this is a brand new unit it is a two-year old model, behind the bleeding edge, so that it is settled technology and has been substantially reduced in price for closeout. Happy Birthday, indeed!

So, on a nice afternoon I began the installation.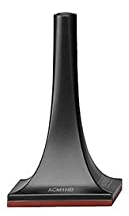 You know the drill: grab the doumentation, pull out the old chassis, make sure everything is labeled (Denon supplies cables for this very reason), disconnect everything, put the new chassis in place. Now at this juncture, the normal processes took a hard-left turn. We were making a generational jump in technology here. First off, there is only a quick start guide in the package. So, rather than connecting all the cables, the first steps are to supply power and set up the unit's connection to the Internet. I've been in this business long enough that I am uncomfortable with powering up an amp without speakers attached, so I jumped to that step ahead of the game. That ended up being okay but unnecessary. The receiver connects to the Denon server and queries it for the latest software. Once downloaded and loaded we moved on. But there's another twist: Another of those first steps is connecting up the video output of the unit to your TV via HDMI. That connection allows the unit to project video onto your TV via its award-winning Denon Setup Assistant and guide you through the process of the setup, step-by-step. As a result, the next steps are pretty straightforward. But there's another bend in the road here: Denon supplies an instrumentation microphone for the system to analyze your speakers and room and tune itself to them. During one point in the setup you are asked to place the mic at ear level in six specified places in the room. They even supply a cardboard stand if you don't have a camera tripod. When you initiate the automatic setup the system pipes into each speaker in turn what they call a "chirp," but is clearly a very quick frequency sweep, low to high. You run through playback from each of the speakers while the mic is placed at each of six positions. The system does this at about 70db so it doesn't drive you out of the room. At the end of the sweep series the receiver calculates the response of your room and adjusts the response of the system to best compliment it. This is called the "Audyssey" setup.

The mindset of having the receiver control the video source selection takes a bit of getting used to but once I did I found the on-screen adjustment menus really helpful. Of course, being that I am a tweaker by trade, some of my adjustment via the pop-up menus drives my wife bonkers during a movie. The receiver demands that it take over your TV's audio playback and switch off the TV's speakers via HDMI, which is a little disconcerting. However, if your cable box offers dual outputs (such as RGB and analog audio) you can run a separate line to the TV so that when you turn off the receiver, you can switch the TV to the cable box and get sound through the TV. That makes it so that the receiver doesn't have to stay on all the time. The receiver also offers a signal pass-through when it is placed in standby (off) mode.

How are the sonic results? They are actually quite impressive. After the Audyssey setup, the response of the speaker system sounds really smooth from bottom to top with no perceivable humps and no feeling of discontinuity between the subwoofer, woofer, and tweeter. There is plenty of dynamic range available when the baseline of 75-80db is set for a movie, enough to rip your silly head right off when the gunshots start on 2003's Open Range.

The bass and LFE are managed nicely and there's plenty of dynamic range down there as well. I had always fancied the the Boston Acoustics center speaker sounded a tad "cardboardy" and the EQing that resulted from the analysis eliminated that rather nicely. My current pop music test CD is The Eagles 2007 outing, Long Road Out of Eden. That album sounds quite impressive indeed with delicate highs and solid kick drums down in the 40hz feel range. Erich Kunzel's Telarc recording of Jerry Goldsmith's excellent "Star Trek: Main Theme" comes across with incredibly detail. Shawn Murphy's recording of John Williams' score for the movie, The Patriot, is sweet and balanced. A good example BluRay movie would be Disney's 2010 Sorcerer's Apprentice. The intro and "Acana Cabana" scene will pretty much rock your world. Toto Live in Poland: 35th Anniversary Tour is HUGE and impressive. The system switches modes between media types seamlessly.

Once the main system setup is achieved you've got the option to turn off the Audyssey setup and manually tweak away with a six band EQ instead if you desire. There are dynamic range restrictors available for overly dynamic movies and enhancers for digitally compressed media. You can also fiddle with the speaker balances to your heart's content. There's a "dynamic EQ" available that basically imposes a comprehensive loudness curve on the signal as you turn down the volume. Everything can be saved individually for each media source and there are global tweak settings as well. At a later date, if you wish to do another setup due to equipment or location changes the system can easily do it for you so hold onto that mic. After messing around for several days I've ended up using the Audyssey setup for just about everything I listen to. I may addd a couple of db of high end or a db or two of subwoofer for gloss but that's about all.

Denon has joined the mad rush of manufacturers to only offer their manuals via the Internet. I'd suggest you go to the Receiver's page on the Internet and download the manual in PDF form. Keep it handy on a laptop or tablet. You'll probably spent the first few days referring back to it constantly. Let's be honest here: the highly interactive menus can be a tad confusing because Denon has some options gray out when they are out-of-bounds and some simply disappear. For instance, when the Audyssey setup is turned on the graphic EQ is greyed out in the Setup menu and a two-band "bass, treble" EQ appears in the Options menu. Turn off the Audyssey and the "bass, treble" EQ disappears from the Options menu but the Graphic is accessible in the Setup menu. When you think of it in terms of a designer and/or you read the manual it makes sense but if you go at it by intuitively plugging away at the remote you'll find yourself scratching your head and saying, "Where did the bass, treble EQ go?" "Whoops! It's back." Also, when Audyssey is engaged, the bass may seem overwhelming. But there's a Setup/Audio/Audyssey menu item called "Reference Level Offset" that matches the Dynamic EQ to the material being played back. Highly dynamic material such as classical music or modern movies gets more EQ on quiet passages and less on loud passages while compressed rock music receives a volume offset so that the bass isn't added until you crank the volume down pretty far. There is a moderate setting between the two. Audio and video inputs can be mixed and matched at will. In my work monitor situation, for example, I select the "CD" input which has been tied to the analog RCA inputs. Then in the Options menu I select video from the HDMI "Game" input where I've routed the second monitor output. By this means I call up the appropriate audio and video for a post-production session with one button.

So, the AVR940S is a great-sounding, flexible receiver with loads and loads of features. There are enough bells and whistles to keep the new owner busy learning for several days. Prepare yourself to deal with the learning curve and you will be better than fine and will be set to enjoy this great receiver.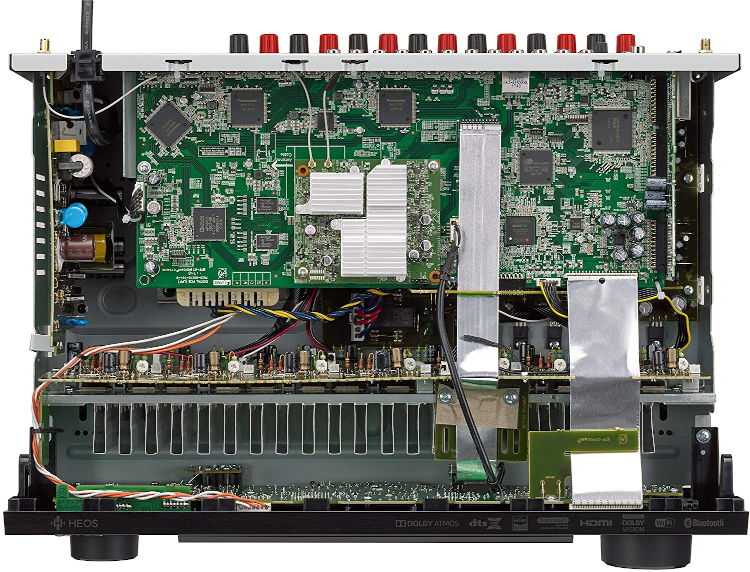 A view of the guts. Click for larger pic.



There are enough specs to choke a donkey, but here are a few:
Seven power amplifier channels, each:
185 watts into 6 ohms, 1kHz, 1ch driven, 10% THD
125 watts into 6 ohms, 1 kHz with 0.7 % T.H.D.
90 watts into 8 ohms, 20 Hz – 20 kHz with 0.08 % T.H.D.

Amp channels can be split into zones for multi-room setups.
Two managed, parallel subwoofer outputs
Eight HDMI A/V inputs
Two optical digital audio inputs
One coaxial digital audio input
Four stereo analog RCA audio inputs
Phono input
Two component video inputs, one component video output
Two Monitor outputs
Blutooth and WIFI connectivity
Ethernet Internet connection
Dolby Atmos with backwards compatibility and up- and down-mixing
DTX-HD with backwards compatibility and up- and down-mixing
Compatibility with most Internet streaming services
4k video up- and down-scaling
Decodes most audio formats from a USB stick

As of this year, 2020, the current model appears to the be Denon AVR-S950H. It appears to be built into the very same box and feature only slight evolutionary software updates and new front panel screen print. It runs $200 dollars more than the S940H currently runs for. The S940H is still available at this date through Amazon.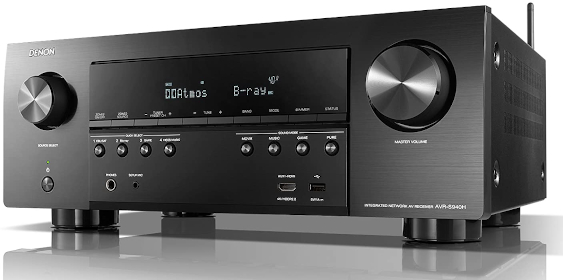 Click for larger pic
DENON AVR-S940H HOMEPAGE





=

=