The Gretsch Electromatic G5715 Lap Steel

---

I began studying bottleneck in about 1973, and have performance tapes from the late '70s of which I'm reasonably proud. During the same period I had chronic sinus infections and gathered my own "righteous" collection of period Coricidin bottles. Meanwhile, after I listened to Ted Turner of Wishbone Ash and Steve Howe of YES using lap steels, I bought an old 1940s Magnatone lap steel from a shop on Knoxville, Tennessee's pawn shop row. It was a miserable affair with no tone control and bad tuning keys and was covered in gray "mother of toilet seat." I hacked along for a few years, trying to make some sense of the thing and dealing with the buzzy hum produced by its ratty single-coil pickup. Somewhere around 1980, in an effort to get that hum under control, I undertook to replace its lipstick pickup with a humbucker. At the first touch of a drill, the aging celluloid MOTS skin and the attached fingerboard decal shattered, ending the experiment and the utility of the old guitar. I always intended to find another lap steel but never did.

Recently, exposure to some new music and re-exposure to some old re-hatched my interest in lap steel. I bought a CD copy of Jackson Browne's Running on Empty live album from 1977 and enjoyed David Lindley's excellent playing.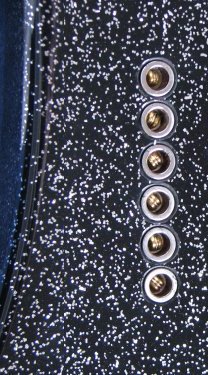 A 1990s version of Wishbone Ash featured Roger Filgate, who resurrected the lap steel numbers from their heyday. Steve Howe produced a symphonic, instrumental album of YES works with a lovely lap steel version of one of their old tunes, "Soon". A Taylor Guitars website video of Sarah MacLachlan's "Hold On" featured some rather cool lap steel lead. And most recently, albums and videos from Pink Floyd and David Gilmour reminded me of how the lap steel can add a unique, haunting melodic texture to a piece.

And so, I was off on another tone quest. Because lap steel had become pretty rare in the current market, most large manufacturers backed out of production. There were small-shop custom jobs, but they were extremely expensive for my re-entry. As a result, I first looked for an old Fender Champ steel with a leg set. Though they've got great historic cache' and a cool vintage vibe, they are, unfortunately, quite pricey. Eventually, the outrageous prices in the vintage market led me to look harder for some new instruments. I found the gorgeous Chandler RH-2 in a local shop and tried it. I love its Weissenborn-esque shape but found that the guitar was too raw sounding and the satin finish felt a bit rustic to me. Probably to appeal to "roots" music, the voicing of its P90 pickup (reminiscent of a Gibson Charlie Christian model) seems to emphasize slide chatter. To tame it for the smoother sounds I like, I would have to back off the tone control considerably. Finally, I came across the Gretsch Electromatic G5715. Over several sessions at the dealer I was able to compare the Gretsch and the Chandler literally side by side through the same amps. One evening I got a chance to play the Gretsch in a jam as well and was impressed with its sounds and ease of playing. So, here's what I found: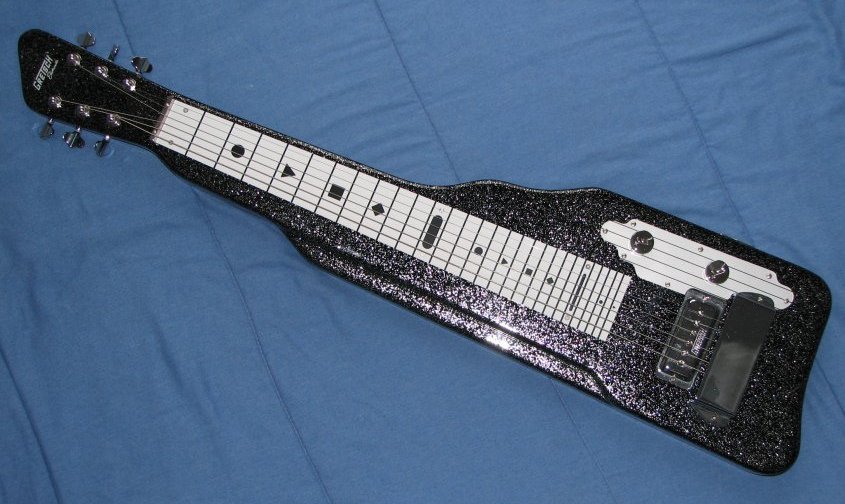 THE PHYSICAL FACTS:

The Gretsch G5715 is a Chinese-built, solid mahogany slab body lap steel guitar produced under Gretsch's new licensing agreement with the Fender Musical Instruments Corporation. The shape and layout are based on Gretsch's 1950s Jet Mainliner model. Reminiscent of some old Supros and Gibsons, it has a nifty art deco shape that rather reminds me of the Empire State Building, when you stand the guitar on end.
It is offered in tobacco sunburst (model G5700) and black sparkle finishes (G5715), both versions finished in polyurethane, and both with chrome hardware. The guitar features 22.5" scale, 1 & 7/8ths nut width, chrome plated cast zinc nut and bridge, through-body tailpiece, sealed individual tuning keys, a white plastic "fingerboard" with high-contrast markings, tone and volume controls, and a nice big single-coil pickup with a Gretsch-branded chrome cover.

FIRST IMPRESSIONS:

When you nestle this thing into your lap you get the feeling that it is a very solid axe. The finish of the black sparkle example starts with black base coats, is next flecked with largish metal sparkles, and is then shot with coats of clear poly for an attractive, deep finish. The gloss finish extends all the way around the guitar with no anti-slip coating on the backside of the instrument. Between the interesting shape of the guitar and its weight, you don't end up chasing it around on your lap, though. Try as I like, I can't find any flaws in the finish. Pretty much everything feels solid, from the smooth Schaller-esque tuners to the volume and tone controls, to the chromed hand rest over the bridge. The fingerboard is white with easy to read black circles, triangles, squares, and diamonds, as position markers. The net visual result is a very cool-looking instrument.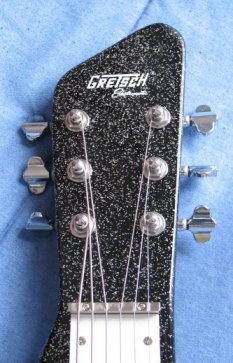 Mounted in their own little plexi panel, the controls are right where they should be. They require no repositioning of the right hand but are easy to tweak from the playing position. Okay, the volume knob could stand to be a little further back towards the bridge so that you don't contact it when you are playing the third octave A, but that would probably spoil the balanced visual placement. At first, the volume control felt a little gritchy but I figured out that the knob was loose. A tiny tweak with a hex key settled that solitary issue with the guitar. The sturdy output jack plate is located away from the player in a logical postion on the audience side of the instrument. The action is raised high enough that interference from the fingerboard is almost not an issue. On the player's side there is a little lip that keeps the slide from touching when you overshoot or lap the bar over the last strings at an angle. It would have been a nice touch to add a lip on the off-side as well, but it works well without it.

TONAL PALLETTE

The sound. How about the sound? The amplified tone is pretty fat and very smooth with very little bar chatter. The mahogany body supports string vibration all the way from the bottom of the bass string to the third octave of the highest string. At the very bottom of its range, the strings still ring out and sustain extremely well when you play with a heavy slide. The unplugged tone of this instrument is loud enough that I can practice in front of the TV without an amp. The single-coil Gretsch pickup is reasonably quiet and its placement allows a wide range of tones. In my playing room, only close proximity to the output trannies of tube amplifiers induces much hum into the guitar and that can be controlled by maintaining a reasonable distance between the amp and the guitar.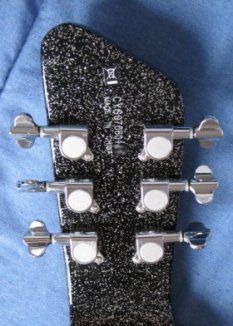 The sound can go from bright to dark with a spin of the very useful tone control. With the tone knob opened all the way there is very limited bar chatter and a slight turn virtually eliminates any residual chatter without squelching the high-end too much. This allows for pretty extreme flexibility, going from a kind of raunchy David Lindley to a sweeter Duane Allman-ish sound pretty easily. The volume control backs off the volume without unduly darkening the tone of the guitar allowing you to get some control right from the front panel. My example came with the pickup nicely balanced for the strings. I've played the guitar both clean and driven and it sounds great either way. It has integrated with my sound setup for my other guitars without much tweakage.

CONCLUSIONS

So, how does the guitar stack up? This is an extremely gigworthy and roadworthy axe, well built and nicely designed. It sounds really sharp, offers some tonal flexibility, feels nice and secure in the lap, and plays well. The high-contrast fingerboard is easy to follow in low light and the guitar has a really cool feel. So, if you are looking for a lap steel guitar that has a cool vintage vibe about it for stage and/or studio, I wouldn't hesitate to recommend the Gretsch.

Type: Solid body lap steel
Body Tonewood: Solid mahogany
Scale: 22.5
Width at nut: 1 7/8ths
Bridge and nut: Chrome plated cast zinc
Tailpiece: Through body
Pickup: Large single-coil branded Gretsch with chrome cover
Tuners: Sealed-back, individual keys, somewhat Shaller-esque
Controls: Volume and Tone
Size: 7-1/2" Wide, 33-1/2" Long, 1-3/4" Deep
Optional Case: Model G2070, P/N 0996461000

Gretsch.com

Gretsch G5715 Page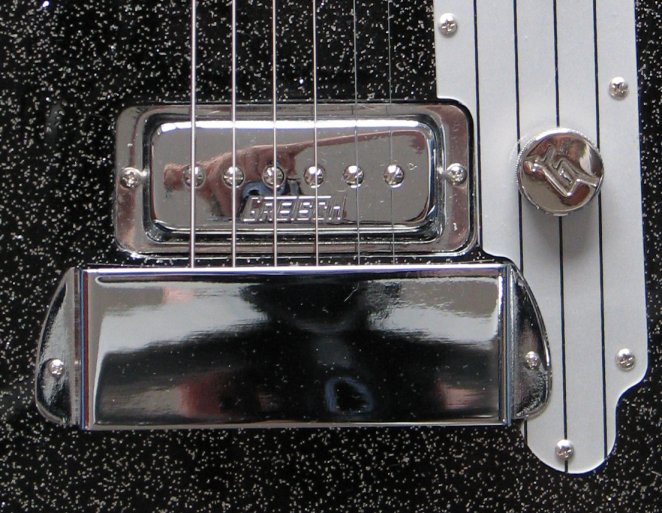 OH, AND BY THE WAY...

And now, here is an associated issue: Slides and tone bars. Understandably, one's choice of slide is an extremely subjective, personal issue. Steve Howe likes knife-edge type slides. David Gilmour uses a hollow, round bar that looks like a deep socket. I came from a bottleneck background and had basically only considered round bullet slides until a store clerk brought out an ergonomic or "ergo" slide when I asked to try out a lap steel guitar. Ergo slides have a radiused playing surface on the bottom and three rounded indentations on top to allow them to be gripped between the middle and index fingers and the thumb. Once the unfamiliarity and novelty wore off, I discovered that the ergo slide made some slide actions possible that weren't nearly as comfortable to execute with a round slide. For example, with the ergo, I was much more comfortable hammering on and pulling off, and I felt a much greater sense of security in my slide handling in general. Since then, I've tried several designs and the particular one I've settled on is the Shubb-Pearse SP-3 (Sally Van Meter model) chrome plated brass ergo slide. The combination of the shape of the indentations and the overall size just seems to fit my playing nicely. It's got enough mass to support the lowest notes while still being light enough to manipulate freely. So, there's another great find I wandered into backwards.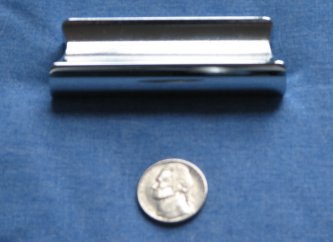 Oh, yes. And HERE is even another associated issue: A stand for alternating between playing slide and regular guitar.








=

=