Fender Standard Jazz Bass

---


Okay, we are here for my umpteenth review and I thought I'd first speak to a question that occurs with magazine reviews: Don't you ever review BAD products? Ummm… In my case, the answer is something of a combination of what your mama taught you and questions of energy and methodology. What did your mama tell you? "If you don't have anything nice to say, don't say anything." That's the way I was raised and kind of how I work. Now, on the question of energy, writing a review requires energy. There's good energy and bad energy: good if you are pleased with an item and bad if you aren't. I find that the kind of energy that motivates me to tell other people about my experiences is typically the GOOD kind. If I like a product I tell others about it. For some reason I don't seem to get enough of a push forward from a bad experience to want to share it. So, you'll get good news from me. Also, my buying methodology tends to push me to learn everything I can about a product and then go experience it before I throw down cash for it. I rarely buy before I try, so there aren't that many duds in my experience.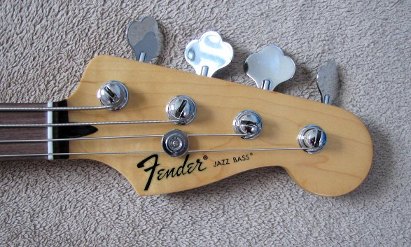 The Item In Question
Now, on to the Fender Standard Jazz Bass: Firstly, let me tell you that I am a guitarist, not a bassist. Glad we cleared that up! With that said, I've played guitar for forty-two years at this writing and have had many opportunities to sit in on bass as well, and have played some really lovely basses in the process. So, while I'm not the most extreme bass connoisseur, I do have experience and taste. My goal in searching for a bass was to find a mid-priced, classic-sounding bass that played well, offered some sound variety, and had a good clean sound for use in the studio. This will fit into the midline working instruments I've been reviewing lately. My youngest son just moved out of our home and took his Fender Precision Bass with him, leaving me bereft of a bass for my own recording work. The time had come to go out and evaluate a bass for myself! After years around my son's P-Bass I loved its solid character and simplicity. However, one little thing that bothered me about the Precision was that it was a one-trick pony offering basically only one sound. Now, mind you, it is a heck of a one-trick pony and you could get variations based around the position of the picking fingers, but having played Rickenbacker basses and modern hybrids, I wanted something that could cover a little more tonal territory. The 1.75" P-bass nut width also felt a bit chunky to me. Call me a guitarist. After getting suggestions from my friends I decided to look into the Jazz Bass with its 1.5" nut width to see if I'd be more comfy. As I considered the quality range of instruments available, the big question that arose was whether I could survive the step down to the Mexican-made Standard series from the American Standard series. I wasn't terribly pleased with the Standards when I went Strat shopping so this was an important point.


Time For a Little History
The Fender Jazz Bass dates from 1958, when Leo Fender decided that the company needed a new line. Since the early 50s the groundbreaking Precision Bass had offered a deep, full sound that introduced the electric bass to the world. Leo had given the P-bass a fretted fingergboard to ensure precision intonation, giving the bass its name. Over the decade it had shed its original slab-shaped body and Tele-shaped head, bringing it into the space-shaped world of the Strat. Nevertheless, other companies had developed basses that offered new sounds, some with much more high-end than the P-bass, such as the Rickenbacker 4001. In response, Leo designed a bass and guitar with bodies more sculpted than the Stratocaster and with new slimmer necks that he hoped would appeal to jazz musicians. Another interesting feature on both instruments was the "offset waist" that placed the seated center of gravity at a different point and made playing sitting down more comfortable. For the Jazz Bass he added twin pickups with separate volume controls. The bridge pickup allowed the brightness of the Rick and the ability to continuously blend the pickups allowed for more sounds. The pair of instruments launched in 1960. While the Jazzmaster guitar never really caught on, the Jazz bass has gone on to be a favorite amongst jazz, blues, and rock bassists in the years since the launch.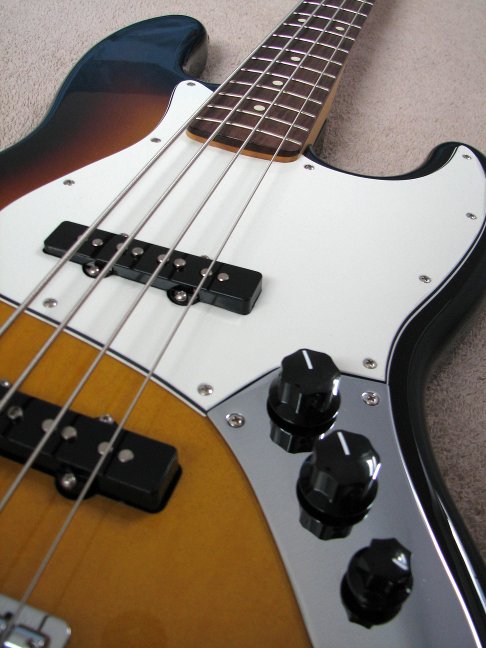 So off I went to the stores.
I quickly discovered that as a guitarist, I did indeed prefer the narrower 1.5" nut width of the Jazz Bass over that of the P-Bass. After comparing the various grades of Fenders I ended up pretty impressed by the Standard Jazz bass. The sound of its neck pickup was very much like a P-Bass, solid and round. The ability to continuously blend between the neck and brighter bridge pickup added plenty of variation, too. The two pickups are wound oppositely to cancel hum when blended equally reducing the already low noise of the pickups that are listed as "upgraded." When I plugged into a nice bass amp and dialed in a smidge of EQ, the sound was well-defined like a deep piano string and the strings seemed to sustain forever. The fit and finish on the particular bass I was looking at seemed nearly as nice as that of the American Standards. The neck is nicely shouldered, making it comfortable to the hand. The fret work was consistent and the action was low and smooth. The medium-jumbo frets give ample height to allow easy fretting. I really loved the reproductions of the old Bakelite knobs. The bass had a one-piece alder body that was finished in "brown sunburst." It had a parchment pickguard and a rosewood fingerboard with a satin neck and gloss headstock. In this case, I really felt like I wasn't giving up anything going with the Standard series. Oh, aye, very nice indeed. I'm sold. Now I needed to work on the price.

Making the Deal
The store had the Brown Sunburst Jazz Bass for $599.99. They also had a special order upgrade version in natural ash that was really pretty to the eye called an "FSR J-Bass" for $599.99. I really wanted to love that one for the way it looked. Both were nice, but the Brown Sunburst just had a deeper, more defined sound with more sustain. The store also happened to have taken in a decent used tweed bass case in excellent shape that day that they were offering for $29.99. It was time to think and calculate.

I went home and started hitting the Internet. EVERYONE had the Standard Jazz Bass on sale for $549.99, including all the brick and mortar sites. However, Musician's Friend and Music123, both divisions of the same company as Guitar Center, had the FSR on closeout for $499.99. I saw a little bit of light there. GC might be able to match the Musician's Friend price on the FSR, and they might even be able to match the price of the FSR on the Standard. While I realized that they were two different animals and GC might not be able to bring down the price of the standard to that of the FSR, that price point for the instrument became my negotiating goal. I did have to allow GC to make their profit, so I added $499.99 to $29.99 for the case and added 5% state sales tax for a total of $556.48. Because I was paying cash, that package became my goal.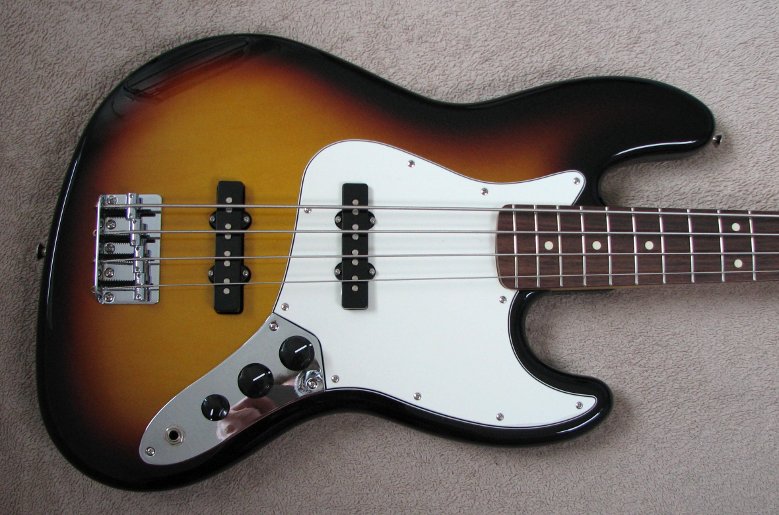 I went back in and looked up my salesman. First, I compared the Brown Sunburst and the FSR again. We agreed that the Sunburst had a better sound. Next, my salesman made his move to close, asking me what I wanted to do. I told him I had found the FSR at Musician's Friend for $499.99, but I really wanted the Sunburst. Then I spilled it: I had cash and my goal was for them to match the cost of the FSR and for me to walk out of store with the sunburst and the case for $550. His eyes shot open wide and he said, "That would be below cost!" I replied with the figures above. He ran the figures, came up with the same $556.48 that I did, and asked if I could manage that. I said yes. He went to ask the manager and I played for a bit. He came back and said they'd be willing to do it. Voile'!

Fender Standard Jazz Bass Specs:

Body: One Piece, Alder, Brown Sunburst
Neck Shape: Modern "C" Shape
Frets: 20 Medium Jumbo
Position Inlays: White Dot
Fretboard Radius: 9.5"
Fretboard: Rosewood, buffed
Neck Material: Maple
Neck Finish: Satin Finish on Back, Gloss Finish on Headstock Front
Nut Width: 1.5"
Scale Length: 34"
Neck Plate: Standard 4 Bolt
Truss Rod Nut: 3/16" Hex Adjustment
Pickups: S/S Standard Jazz Bass® Single-Coil Pickups
Controls: Neck Pickup Volume, Bridge Pickup Volume, Master Tone
Hardware: Chrome
Bridge: Standard Vintage 4 Saddle Bass
String Nut: Synthetic Bone
Tuning Machines: Standard Open-Gear Tuners
Truss Rod Wrench: 3/16" "T-Style" Ball-End Hex (Allen) Wrench
Saddle Height Adjustment Wrench: 1/16" Hex (Allen) Wrench
Strings: Fender® USA Super Bass 7250ML, NPS, (.045, .065, .080, .100 Gauges)
Unique Features: Upgraded Pickups and Vintage Style Jazz Bass Control Knobs, Fender Transition Logo






=

=