Surfing the Goldilocks Syndrome

---
2018 Gibson Les Paul Standard T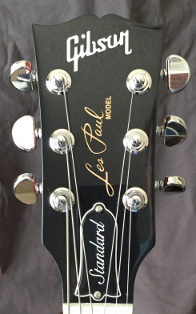 Click to embiggen



IN SEARCH OF A LES PAUL
This one has been coming for a while but its arrival was still a surprise to me. It shouldn't have been: I'm on vacation. Of late, that seems to be tough on my guitar fund. Something always seems to crop up when I'm on vacation.

By way of background, at the time of this writing I've owned and played a 1974 Les Paul Standard for forty-one years. It was my first really serious guitar and is a great one. I saved three years to buy it used and was finally able to afford it as I was joining a serious band in the late '70s. We've done a lot of performances and sessions together, experienced a lot of miles and smiles. It's not going anywhere. Over the years I've basically conformed to this guitar – Gibson scale is my home and the way the body sits up under my rib cage just feels like home as well. It does chugga-chugga crunchy rhythm like no other guitar I've played. However, my '74 seems to be growing heavier as I, um, shall we say, mature. It is, in fact, a titan, weighing in at 9.8 pounds which is average for its brothers from the period. That makes it hard to sling for long performances and sessions. There is also the fact that the neck pickup position of 70s Les Pauls sounds a little harder and thicker than the vintages ones and the modern reconstructions. So, for a long while I've wanted a sweeter sounding LP to use on sessions, and one that was lighter. I tried a Studio Model and then a '60s Tribute Model. Between its weight relief and baseball bat neck, the Studio was neck-heavy. I found the P-90s on the Tribute to be just too noisy for my tastes.

So, this year I started researching the many Les Paul models (and sub-variants) and saving for one. I was really looking at the current Les Paul Traditional model because it isn't weight relieved and I wanted a fairly... um, traditional Les Paul. Besides, I thought you needed some of that weight for sustain. I'd gotten reasonably far along in my savings plan, had done quite a bit of research, and had played some Traditionals. I had my eyes out for a lighter Les Paul Traditional. Then the Fourth of July approached, the guitar stores began running their big sales, and I idly visited them. While I was in one store trying out the Traditionals I asked to try their prettiest one, the one with the flamey top, way up high on the wall. I ended up spending an hour with it. This guitar had a great, sweet sound, felt really comfortable, and wasn't heavy. I really began to love it. However, when I went to put it back I discovered I'd made a big, expensive mistake: this guitar I'd fallen in love with was, in fact, a Les Paul Standard and I hadn't even noticed.

Now I know what some are saying: But modern Standards are weight relieved and have an asymmetrical neck carve and all those weird switch options! Yes, but this one has a great sound and feel and a weight that is two pounds lighter than my '70s LP. But Standards cost a lot more than Traditionals. Well, you've got me there - they run about six hundred dollars more than a Traditional, in fact. Right at the point that I discovered my mistake, I also discovered that this particular guitar was on sale for the Fourth of July, with a deep discount bringing it to very nearly the same cost as a Traditional model. Oh, my. And I had a day left to think about the purchase and to do some further research before the sale ran out.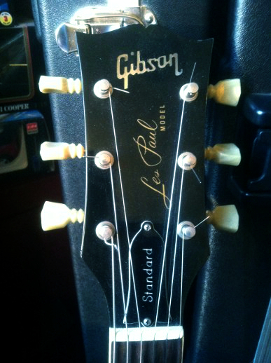 '74 Small Script Standard Headstock



BACKGROUND OF THE LES PAUL STANDARD MODEL
In the early 1970s the Les Paul Standard Model was Gibson's response to the cries of their customers. The original single-cutaway Les Paul was produced from 1952 to 1960, when it was discontinued due to declining sales. By the late 1960s, guitars from the original run were experiencing a revival. After a phone call from Les Paul himself alerting them to this fact, Gibson decided to put it back into production. However, because the Les Paul had changed pretty heavily every year during its original production run, Gibson had no idea which iteration people wanted. They fiddled around with various configurations: P-90 pickups, leftover Epiphone mini humbuckers, etc., until a hue and cry from the guitarists and dealers demanded, "No, not that, make us a standard Les Paul, confound it!" By that, the customers meant a version with large humbuckers, a stop tailpiece, and an ABR-1 bridge. So, in 1973, when Gibson began a small run of the Les Paul Standard at the Kalamazoo plant, with a truss rod cover sporting that name in a small script, they set up the Standard as their, well, standard-bearing version of the Les Paul. It wasn't exactly like the originals but it was their first attempt to reproduce them. However, it took until 1976 and the opening of the Nashville plant whose premier product was even another version of the Les Paul Standard for Gibson to begin advertising the model by that name and putting it in their catalog. At that point they increased the size of the font on the truss rod cover as well.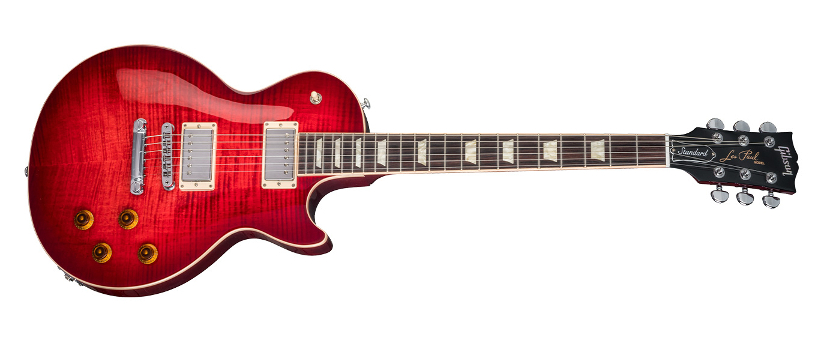 2018 Les Paul Standard. Image courtesy Gibson.com



THAT WAS THEN, THIS IS NOW.
All of that has changed in the last decade. Gibson now has two lines to carry the flag: the Les Paul Traditional and the Les Paul Standard. The Traditional looks to be what the Standard used to represent: an attempt to reproduce the Les Paul of old. For this guitar, Gibson doesn't use weight relief so it is a heavier guitar. They build the Traditional very much like the late-'50s Les Pauls, right down to using nickel plating for the hardware and Kluson tuners with tulip-shaped buttons. They offer AA grade maple tops on this model. The price is set at $2699. By contrast, weighing in at $600 more than the Traditional ($3299) and typically a couple of pounds less, the Standard has become something of the progressive, experimental bed of the Les Paul line, a player's guitar adding a few new features. It should also be noted that within the Standard line there are two sub-lines: the Standard Model and the Standard HP Model. The Standard is closer in appearance to the Traditional Les Paul than the HP but has some choice new features and a maple top upgraded from the Traditional's AA grade to AAA. By contrast, the Standard HP is unabashedly modern in appearance, losing the pickup surround rings and adding chrome knobs. It also adds the powered Tronical electronic tuner system and a contoured neck joint. They've upgraded the top to AAA+ and set the price at $3629. However, we'll be considering the regular Standard model here rather than the HP version because my experience and interest are with this model.

One of the big changes to the Standard revolves around the fact that mahogany stock available today is heavier than the mahogany used in the originals. As a result, just as in the 1970s, a solid Les Paul is going to be heavy. With the Traditional model, we are talking about typical weights between nine and eleven pounds. As a result, over the last couple of decades, Gibson has experimented with various weight relief schemes in some of their models, from drilling a series of holes, to chambering out the body, to the Modern Weight Relief system which consists of a series of elliptical cavities routed into the body to take off a bit of weight and give more balance without affecting tone. For the 2018 model line Gibson adjusted the cavities a little to further balance the guitar and renamed the scheme the "Ultra-Modern Weight Relief System." You can read more about the various systems, HERE.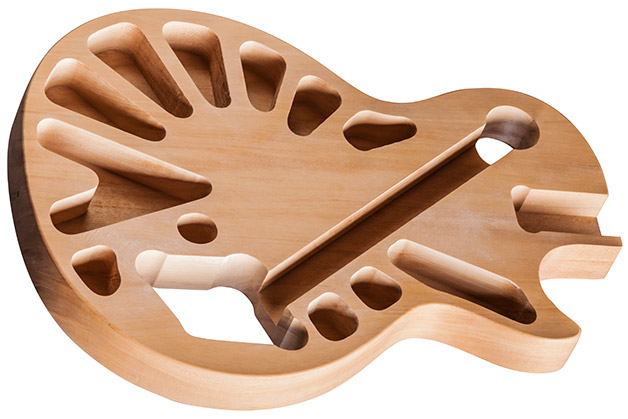 Ultra-Modern Weight Relief System. Image courtesy Gibson.com



In another change to the Standard, Gibson is trying an "Asymmetrical Slim Taper" neck profile that offers a little more heft on the bass side and a 1960-esque slimness on the treble side. For a pic of the profiles, go HERE. (Image courtesy of Gibson) They couple this with a compound radius fingerboard that offers the possibility of a lower action. The idea is to slightly adjust the radius of the neck to account for the difference between the string spacing at the bridge and nut. The result is a slightly conical aspect to the radius of the fingerboard, placing it more in line with the plane of the string as defined by bridge and nut spacings.

And finally, Gibson has added several switching possibilities over the traditional selector switch by adding push-pull switches to its volume and tone controls. In the Standard this offers four functions: Each of the volume controls can be pulled up to split its respective humbucker in what Gibson refers to as "Tuned Coil Taps." Gibson adds an EQ network that boosts the bass and moderates the mids. The tone control pull switches also offer extra possibilites: The switch on the neck pickup tone control reverses the phase of the neck pickup offering a sound similar to Peter Green's "Greenie" tone when the pickup selector is in the middle position. And finally, the bridge pickup tone control pull switch is a "blower" switch that connects the bridge pickup directly to the output jack, thus bypassing or "blowing-by" the volume and tone controls. When playing live, you can dial up any other control combination and then pop up this switch for a bright, powerful lead sound.


FEATURES OF THE 2018 LES PAUL STANDARD

Mahogany body
AAA maple cap
Ultra-Modern weight relief
Gloss nitrocellulose lacquer
Cream binding
Mahogany neck
"Asymmetrical Slim Taper" neck profile
Rosewood fingerboard
Compound radius fingerboard
22 medium frets, cryogenically treated for longevity
Binding rolled over frets
Plek'd fingerboard and frets
Acrylic Trapezoidal fingerboard inlays
Tektoid nut
Burstbucker Pro Lead and Rhythm pickups
Three position selector pickup switch
Individual tone and volume controls for each pickup
Aluminum Tune-O-Matic "Nashville" bridge
Aluminum stop bar tailpiece
Locking kidney bean (Grover-style) tuners
Chrome plated hardware
Amber top hat knobs with no pointers
Cream switch tip
Push-pull knobs select extra switching options
Finishes: Heritage Cherry Sunburst, Cobalt Burst, Blood Orange Burst, Mojave Burst
Strings: 09, .011, .016, .026, .036, .046
In the box: Cream "poker chip" switch washer, Cream pickguard, manual, warranty card, inspection card with a picture of the guitar on the final inspection bench at Gibson, nice leather strap, polishing cloth, and a nice multi-tool containing all the tools you need to adjust the guitar.
Hard shell brown arched-top case with nice gold STEAL ME Gibson USA logo


THE SEARCH, PART DEUX
So, that evening after I tried out the guitar I went home and thought hard about it overnight. I rolled it over in my mind as I slept, trying to figure out how to make it happen while trying to decide whether it was worth it. Because I had saved to buy a used Traditional and this was a new Standard, there was going to be a pretty large financial gap here. By the next morning I had my answer: Using the store's published used gear trade-in allowance percentage and the Reverb.com Price Guide, I put together some older pieces of gear that I thought might bridge the gap. What I chose and how I chose it is another, interesting story for another day. It is easiets to say that over the last couple of years I have been "reducing UP." "What the heck is that," you ask? For several years I had been acquiring instruments to support my studio work. Playing sessions can demand a variety of instruments to cover all the bases. However, a couple of years back I discovered myself crowded in my home guitar studio that had little room for ME. With gear lining all the walls it had begun to feel a little claustrophobic. I moved a few items to live at the studio where I work but that still left me with just too much stuff. So, over the last two years I've been reducing quantity and increasing quality by trading up to fewer, better items.

That next morning I discussed the whole deal with my lovely wife as I always do, because she balances out my obsessions and impulses. She actually encouraged me to buy the guitar, so off we trooped to the store. Once there I looked up my salesman and told him I wanted to buy the thing. At his request I brought out my trades. He evaluated them and then asked me, "What are you hoping for?" I told him my combined goal. He worked the math, which was really close to my estimate, and met me in the middle. Voile'! As Amy Grant has said, "A good dela is only a good deal if it is a good deal for everyone involved." After a few minutes of paperwork I was on my way, new guitar in hand.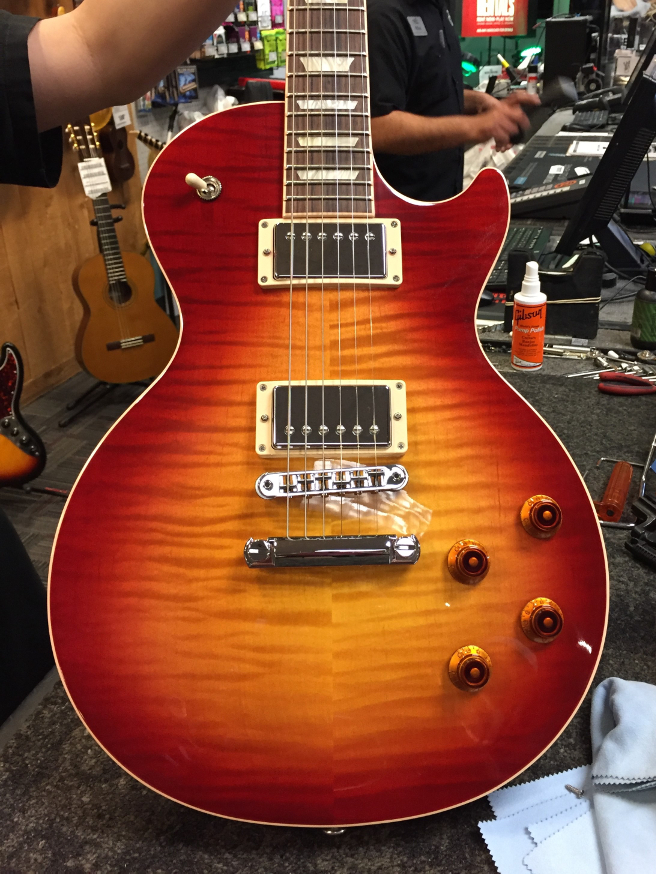 In the store - Click to embiggen.



SO, WHAT ARE MY IMPRESSIONS?

I've gotten the guitar home and have time to evaluate it further. I've also taken it to the studio where I've evaluated it in depth, and have sought the opinions of some colleagues. Every electric guitar requires a little bit of learning for you to figure out what it wants from the amp in order to perform for you. I've actually given it more than a month at this point. Here's what I found:

The Sound:
With the guitar just sitting unplugged in the case, if you strum across the strings, it sustains forever. I mean for a really, really long time. We are talking phenomenal sustain. However, differing from the '74 Les Paul, this new Standard has a stronger attack that stands out from the sustain phase. Perhaps the lightweight aluminum tailpiece and bridge contribute that extra "ping" to the attack, but there's also a bit more brightness or fizziness overall that probably comes from the pickups. This guitar's Burstbucker Pro pickups are a development from Gibson's '57 Classics. The '57 Classics were designed to closely reproduce the PAF humbuckers from the '50s, as were the T-top pickups from the '70s. The Burstbucker Pros appear a tad brighter, pingier, and edgier than the '57 Classics. I suppose that is exactly what you'd expect since Gibson changed from Alnico II magnets in the Classics to Alnico V magnets in the Burstbucker Pros. Alnico V typically has a bit more power and brightness and a slightly scooped midrange. With some guitars you have to work with them a little bit to figure out what they want and after a couple of weeks with this one I'm finding that I like to run both pickups like I run those on a Tele: with the tone controls backed down a bit. Without that, there's a little too much "hair" for me.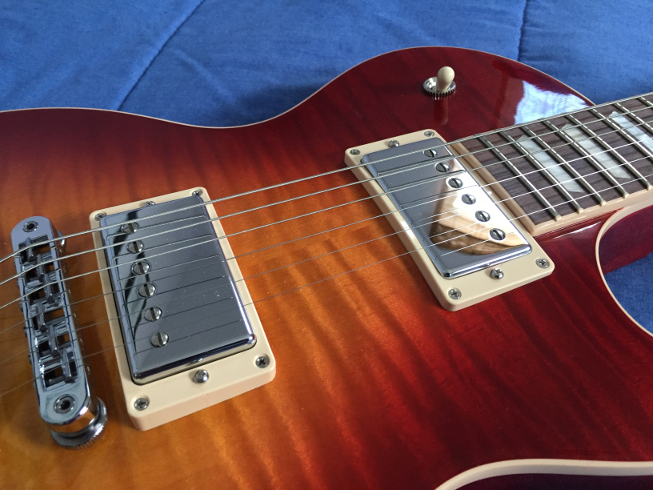 Click to embiggenate.



I had the sound of the middle position of this guitar rolling around in my mind one morning, trying to figure out where I'd heard it before. I was listening to some old performance footage of Phil Keaggy from the seventies when he launched into a middle position solo and there it was, a certain "chirp." Oddly enough, he was playing a '70s Les Paul Standard. Then he switched to the neck pickup and it went back to sounding like a thicker '70s LP again. Still, part of what differentiates the sound of the original "Bursts" from that of some of their '70s brethren came from the heavier building techniques of the '70s that created a quieter attack and greater compression. By contrast, this guitar has more "sweetness," something like that of the '50s Les Pauls or ES-335s, which was one of my goals for the instrument. Of course that sweetness comes as a trade-off, but I can use the '74 Les Paul to cover the more chunky, powerful sounds and this one to create the sweeter sounds. Vive la différence!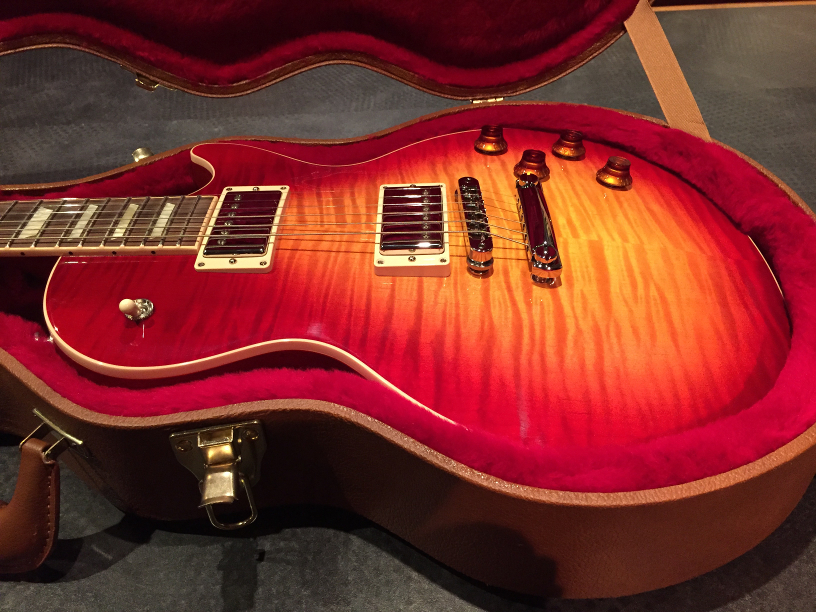 Click to embiggen.



Weight:
The new Ultra-Modern weight relief has brought this example down to a very comfortable 7.8 pounds on a professional postal scale. That's two pounds lighter than my '70s LP, and the weight loss is welcome. Still, the lightness of these lighter guitars can come as a shock if you've always known heavy LPs. The initial impression in the store was that the guitar balanced very nicely in my lap without a strap. In fact, I played this guitar that first day for an hour while sitting on a stool, and was neither discomforted by lower-bout heaviness nor fatigued by the guitar's weight. For years I had a rule that I always wore a strap while playing a Les Paul for both security and comfort. With Ultra-Modern Weight-Relieved Les Pauls that is no longer necessary. Earlier weight-relief efforts sometimes yielded neck-heavy examples but this one is remarkably well-balanced. Now, my particular playing position wants a strap to raise the neck a little higher for barre chords at the first position, but for many the strap won't be necessary unless they are standing. And since we are on the subject of straps, here are some little details I noticed:

This guitar's front strap button is about an inch higher than the one on '70s Les Paul's. I'll be keeping a separate strap adjusted to accomodate this one.
Gibson's new front strap button is quite a bit wider at the top in order to make it more secure.
Gibson has included a really nice leather strap with the guitar. I love case candy.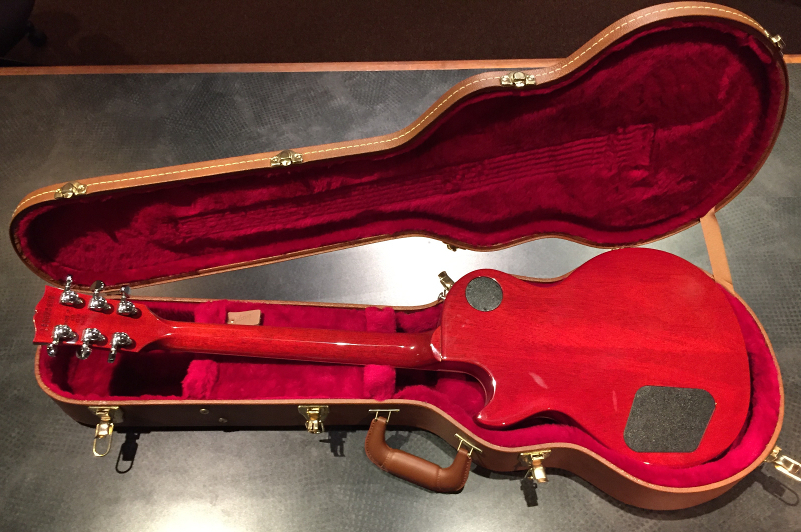 Click to embiggenate.



Feel:
The compound radius takes some getting used to. You can't approach string height like you did on a single-radius neck because the compound radius neck is specifically designed to better support bends at a lower action height than single radius necks. Once you come to grips with that fact you realize that even though you aren't used to it, a slightly lower action is quite secure and comfortable. It's mind over matter. In fact, up higher on the fingerboard, the radius contributes to much easier and more secure bends than I've ever experienced on the high end of a Les Paul. If you invest the time you'll be rewarded. However, the neck is another matter entirely. A good portion of my being fooled into thinking that this Standard was a Traditional was the carve of the neck. I think Gibson's earlier versions of the asymmetrical neck may have been a bit too radical for my tastes. When I tried them I could feel the asymmetry right off and knew that they felt too foreign for me to adjust to. But this latest version fooled me completely. The subtle profile feels quite natural for those who like a '60s slim taper neck. Gibson speaks of it being designed to be comfortable for players who wrap their thumb around the neck. I use a hybrid technique where I sometimes put the thumb in the middle of the back of the neck and sometimes wrap it, and I find the neck taper to be quite comfortable for both. Gibson has also dropped from jumbo to medium-jumbo frets in recent years and that is probably the only change I don't really prefer. I guess I'm just a jumbo fret kind of guy.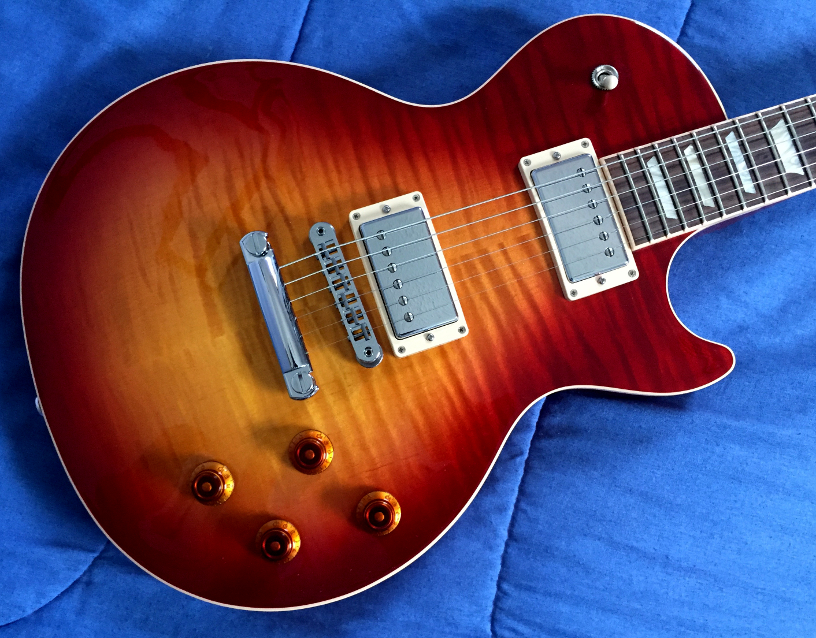 Click to embiggen.



Fit and Finish:
The nitro finish on this guitar is as close to immaculate as I have ever seen in a Gibson. It is simply beautiful. There's no orange peel that I can see. The neck binding is cleanly trimmed at the frets and there aren't any file marks on the fingerboard. All of this is a first for me and it is first-class. Gibson has historically struggled with this final stage but here they've gotten it right. The top figure is drop-dead gorgeous and very well-matched. Remember that this whole adventure started with this guitar's top catching my eye way up on the wall. I am of the impression that tops can be too flamey or not flamey enough. This particular flame top is gorgeous, not too little flame, not too much, and very three-dimensional. It was pretty much the Goldilocks choice for me - just right. That might even be a nice name, eh? I'm reminded a bit of Joe Walsh's '60 burst as it appeared in the pics from the Winterland Ballroom and on the inside sleeve of his 1974 album, So What? The back of the body is built with two pieces of mahogany and the neck is the traditional one-piece mahogany with small "wings" on the headpiece. The back of the headpiece is stamped with the serial number, "Made in U.S.A," and "2018 Model." Now, about the chrome hardware: While purists prefer nickel, the chrome hardware featured on this guitar is actually a bonus for me. With my body chemistry, nickel hazes and corrodes in an ugly way. After forty-four years and two owners, the chrome pickup covers on my '74 Les Paul have lasted amazingly well. The nickel ones on my 2005 ES-335 have begun to not just haze but corrode, despite my diligence in wiping them down after every playing session. Because the new guitar features chrome, I won't have to worry as much about the care and feeding of the guitar.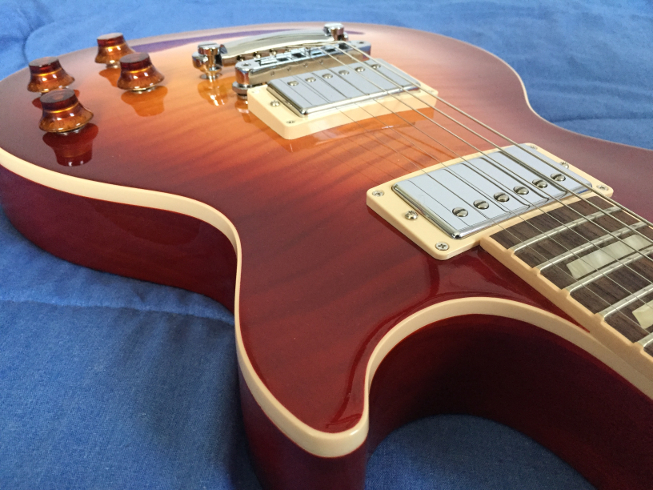 Click to embiggenate.



Push-Pull Switch positions:
The coil taps with the EQ network have an interesting sound. You don't loose gain and there's a little more midrange to the sound. It's not like typical coil splitters where the pickup sounds thinner, quieter, and usually quite a bit noisier – this arrangement maintains the bass and most of the gain and utilizes the other coil to reduce the noise. This position seems most useful when you are playing with some gain. It seems to take the hair off and round out the guitar's sound a bit. The phase switch creates a unique and interesting sound as well when the pickup selector is run in the middle position. That's one I'm sure I'll find a job for in the studio - when you've got a bit of gain on it sounds very nice. Through a clean amp what comes to mind is rhythm guitar work. And finally the blower switch: The sound here is of the bridge pickup opened up with all its high end available. If you want a raucous rock and roll lead sound with all the hair on it, here's the way to get it! I can think of no better way to push a Marshall with the volume and presence all the way up.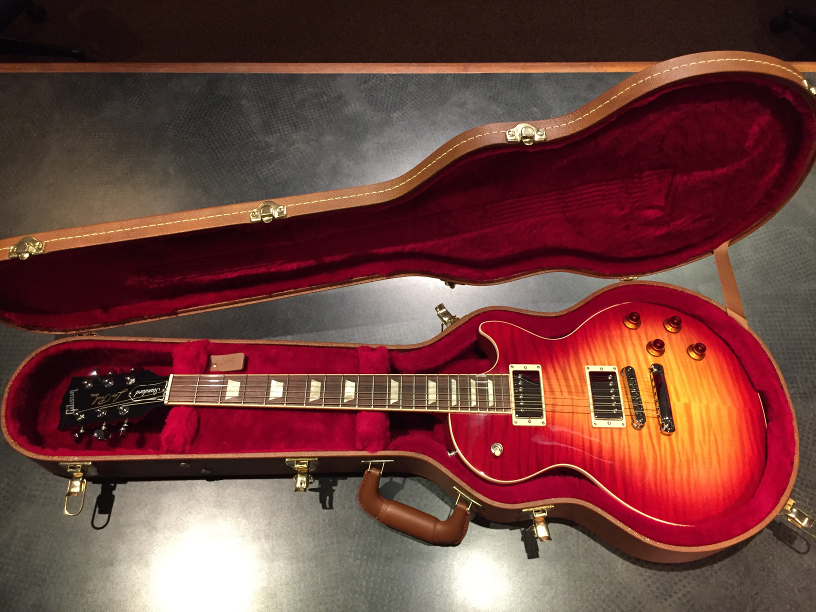 Click to embiggenate.



The End Game
So, how does the guitar stack up? I have to say that I was utterly surprised that I liked it, and liked it a lot. And perhaps that can serve as a lesson - that I, and possibly we, should spend more effort trying out guitars with our ears and hands and less time purusing specs and being influenced by expectations. Details, Details: I love the little collection of stuff Gibson tucks in the neck box of the case. Fender had started this process and now I feel that Gibson has taken it even further. The brown cases are a nice departure from the years of black as well and lend an air of luxury to the affair. Though the guitar left the factory few days after Gibson's bancruptcy announcement, the sound, the feel, and the fit and finish, are all a credit to the company and its employees. Let's hope they can emerge from their tough time and make more great guitars like this one.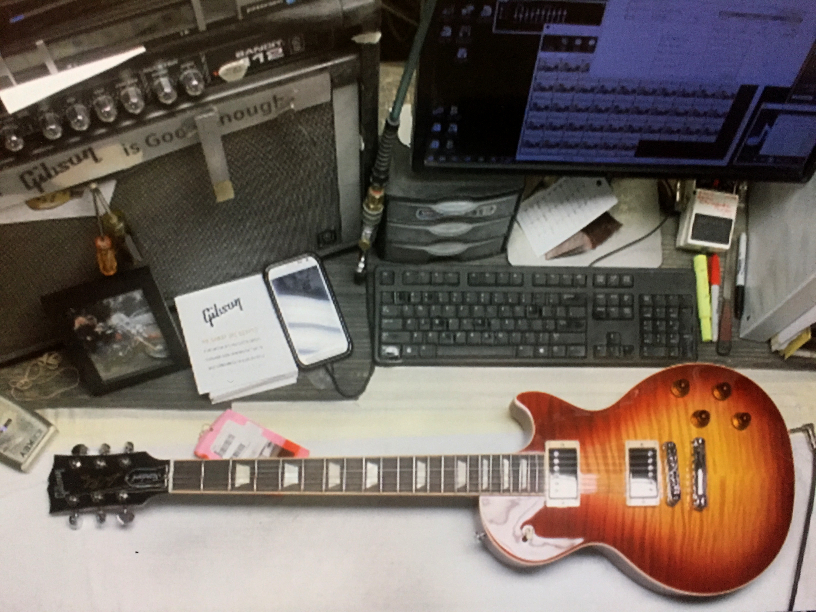 On the bench at Gibson
GIBSON GUITARS
2018 GIBSON LES PAUL STANDARD SPEC SHEET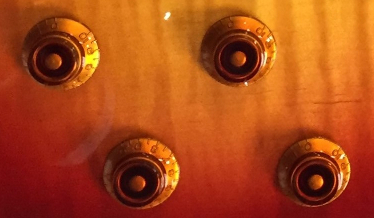 07-08-2018


=

=