Gibson Hits One Out of the Park

---
HOW DID WE GET HERE... AGAIN?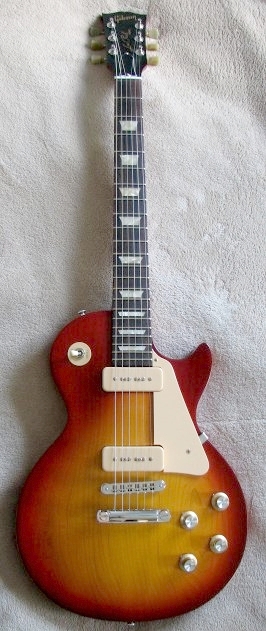 The folks at Gibson seem to trot out a new guitar, in fact a new Les Paul, about every week or so. Many of them seem to be distinguished by, well, their lack of anything... ummm... distinguishing. They are often high-end LPs with a couple of details shifted around or low-end guitars that have either been "bling'd up" or stripped down pretty far. After a while the barrage turns into a blur. But every once in a while Gibson creates an instrument that just turns out to fill a very popular niche. Or two. Or maybe three. I think that's what happened here. Before the first few even showed up in the stores there was a rush to pre-order them, after which a buzz began to kick up on the internet forums. The guitars that made it to the stores were snapped up quickly. I watched eight of these sell overnight on one internet retailer's site. Something was up. When they were announced a few months back, I, too, thought they were just another novelty from Gibson. My first encounter was when I actually just grabbed one up to check out an amp at a store. But after I tried one, my thoughts began to change. I came to the conclusion that in its own way, this guitar was the coolest thing since sliced bread. The guitar had the full chunkiness of the Les Paul but offered a greater bloom of overtones and eagerly yielded to pinch harmonics. I spent several weeks visiting one of these in the guitar store and eventually gave in and decided to take it home. I was, as usual, enabled by my lovely wife. What guitar is this? We're talking about the Gibson Les Paul Studio '60s Tribute model.

BACKGROUND
So, what's the deal with a P-90-equipped Les Paul? A little history: When the Les Paul was introduced in 1952, the humbucking pickup didn't even exist. Perhaps it was a little mote in Gibson designer Seth Lover's mind, but it wasn't on a guitar yet. Instead, the earliest Goldtop Les Pauls from 1952 to 1956 sported "P-90" pickups. Then again, when Gibson first re-released the Goldtop Les Paul in 1968, they once again equipped it with the P-90s. These were large, single-coil pickups with Alnico magnets and cream-colored plastic covers referred to as "soapbar pickups." Gibson describes their sound as "grainy" and having more midrange punch and high-end bite than a humbucker. Others describe the sound as "bright but never quite clean." However, unlike Fender single-coil pickups, these soapbars aren't thin sounding. Somehow they have a certain "girth" to them, and the unique Les Paul body contributes to that girth and to sustain. Moreover, they have about the same output level as a PAF humbucker so they drive an amp well. When lightly distorted, the sound becomes a little more "throaty" than a Strat, probably due to a combination of the maple cap and the shorter scale of the Les Paul. The result of the combination in the Les Paul is that you have much of the girth and sustain of a Les Paul Standard combined with the overtones of a Strat.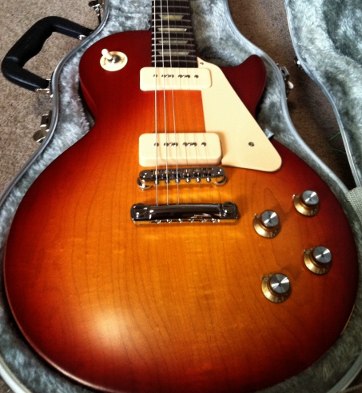 WHAT DOES IT OFFER?
So, why a "Les Paul Studio '60s Tribute"? I suppose this is an opportunity to combine the features of a couple of eras for a great working guitar. This thing pushes so many buttons:

It has all of the basic physical attributes of a Les Paul.
It is attractive and classic looking.
It has the Plek'd action and '60s slim profile neck.
It's a superb journeyman instrument for someone moving up from beginner status.
It gives a player an opportunity to pick up a great gigging instrument on the cheap.
It allows a Les Paul owner to inexpensively try out an alternate configuration (P-90s).
It gives a Les Paul owner the option for an inexpensive second LP for gigging.
It gives Fender players an inexpensive way to check out a Les Paul they might be comfortable with.

The Plek'd action is a deceptively important feature - After being finished on the Plek machine, the frets and action will be reasonable on the guitar from the very start, allowing you to evaluate the instrument better in the store and, of course, play it better at home. Inexpensive instruments have long suffered from lack of attention to detail on the actions. This cures that problem and allows Gibson to increase the consistency of their guitars. More HERE.


CONSTRUCTION AND FINISH
The LP Studio '60s Tribute features a chambered mahogany body with a maple cap. The maple caps on these are two-piece and the mahogany backs have been reported to be anywhere from one to four pieces. Before the maple cap is applied, chambers are routed into the mahogany body to cut the weight and give the guitar a little of the airy semi-hollow sound. The neck is a single-piece of mahogany shaped into what Gibson calls the "'60s slim profile."That profile works out to be somewhere between the '60s slim profile neck on a recent ES-335 and the profile of the neck on my '74 Standard. The neck is set into the body with a glued-up mortise and tennon joint. As is usual for the Studio series, the binding is deleted from body and neck to lower cost. I think Gibson learned this from PRS. Another cost-saving feature is the satin finish. In this case, Gibson has skipped the pore-filling stage in finishing the guitar as well. Rounding out the cost-savings features, the guitar comes in a gig bag rather than a hard case. I chose to upgrade to a hard-shell case because I prefer the protection it offers. The guitar is offered in six worn finishes: Cherryburst, Honeyburst, Goldtop, Black, and White. A little simulated "wear-through" is created on each of them. All come with cream colored plastic parts, gold reflector knobs with silver inserts, and chrome hardware. Now, there was one small discrepancy in the guitar I reviewed: One of the reflectors on a tone knob fell out after a couple of days. A call to Gibson was cheerfully answered and I received a new knob in three business days. That's classy!

SPECIFICATIONS, 2011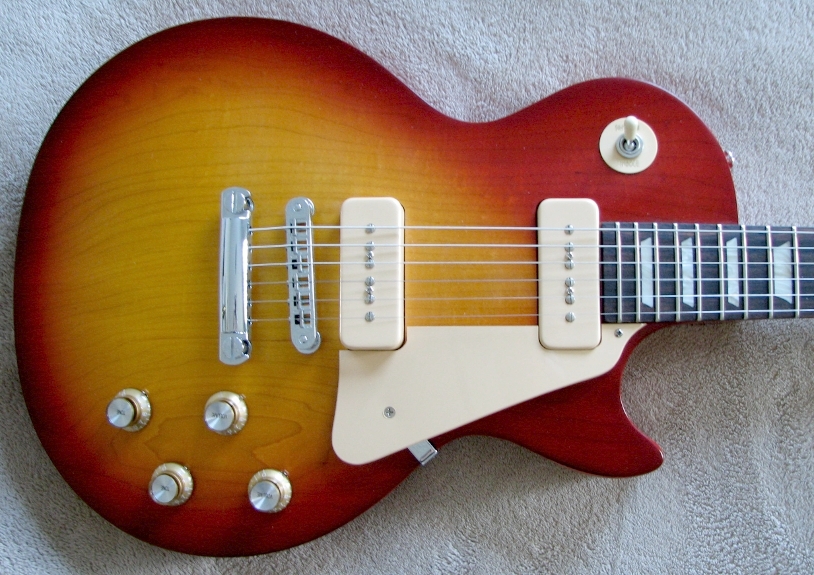 Gibson Les Paul Studio 1960s Tribute Electric Guitar
Body style: Single-cutaway carved top Les Paul
Top wood: Maple
Body wood: Mahogany
Finish: Worn nitrocellulose lacquer
Headstock Inlay: Gibson Logo
Silkscreen: Gibson Logo plus Les Paul Model script
Neck: Mahogany
Neck profile: Slim Taper '60s
Neck joint: Set
Nut: Corian
Fingerboard: Rosewood
Fret dressing/nut cutting: Gibson PLEK system
Fingerboard inlays: Figured acrylic trapezoids
Hardware plating: Chrome
Tuners: Grover Kluson style green keys
Pickups: Gibson P90 with cream covers
Pickup selector: 3-way Switchcraft
Controls: volume, volume, tone, tone
Knobs: cream top hats with chrome inserts
Pickguard: cream Bridge: Nashville Tune-o-matic
Tailpiece: stopbar
Case: Gibson deluxe gig bag
Scale length: 24-3/4"
Fingerboard radius: 12"
Number of frets: 22
Nut Width: 1.695"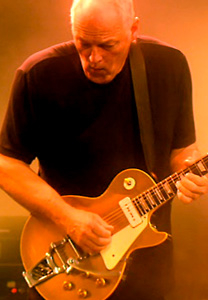 RECORDED EXAMPLES
When I think of players who use a P-90-equipped Les Paul, the first person who comes to mind is Pink Floyd's guitarist, David Gilmour. Believe it or not, though he is widely know for his work on the Fender Strat, he uses and loves Les Pauls as well. If you've heard Pink Floyd's "Another Brick in the Wall, pt.2" or "A Great Day for Freedom," you've heard David's original 1955 Les Paul with P-90s. The solo on "The Wall Pt. 2" particularly, is Gilmour's P-90-equipped LP set to the bridge pickup and plugged directly into the console with a little EQ and compression. On "A Great Day for Freedom" from the Division Bell album, you hear David's take on the Les Paul played through a distorted amp. On his more recent solo album, On An Island, Gilmour played part of the first solo on the title track and all the solos for the track, "This Heaven" on a 1956 Les Paul with P-90s and a Bigsby Tailpiece that he acquired after the '55. He stated in a recent interview that he more and more prefers guitars that have a vibrato tailpiece. He actually took the '56 LP out on tour and it made an appearance on his Remember That Night - David Gilmour Live at the Royal Albert Hall BluRay/DVD. In each of these examples we hear the tonal difference between his goldtop Les Pauls and his main squeeze, the Fender Strat. That difference is mainly characterized by that girth spoken of above. It is a sound that falls between the Strat and LP, and can easily serve as a bridge between the two for players coming from one side or the other of the stylistic landscape.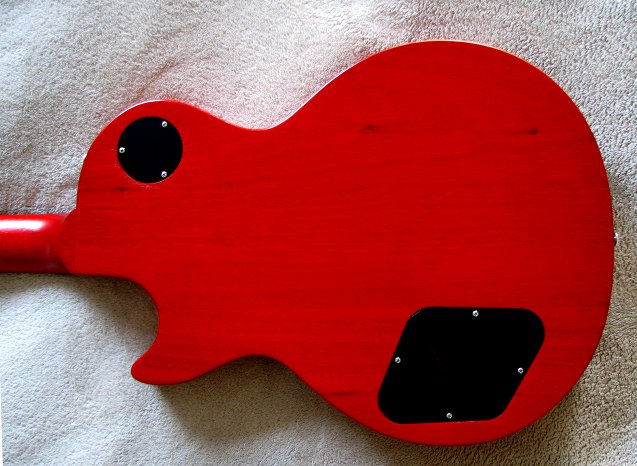 THE BOTTOM LINE
When I was learning guitar back in the '70s, there were the cheapo guitars and then there were the nice but expensive ones, but there really was no middle ground. The cheapos could be expected to have terrible action and sound and the nice ones were, well, nice. A young player could expect to be marooned south of the pro-quality line and held back by his instrument until he could raise some pretty big bucks. Of late, however, the guitar makers have been coming out with some instruments that provide a really rich middle ground and give new players more room to dream. They also allow players who already own some nice guitars to fill out some missing sounds inexpensively. That's what Gibson has done here: At a practically unbeatable price point, Gibson has brought out a real winner with the sound and the playability of a much more expensive instrument. While the finish is satin, the price is nearly a half of that of this guitar's glossy brethren. Now, mind you, there's a little room for improvement in the comfort of the action in the hands of a luthier, but as delivered, the action is dependable and consistent thanks to the fingerboard being Plek'd. I, for one, had always wanted to try a Les Paul with P-90s and this guitar made it possible to add this interesting, classic sound to my arsenal without too much financial stress. I'd been visiting a particular cherry burst example at my local retailer for a few weeks. One weekend the dealer ran a great sale that brought the cost down even further, so I was hooked. I get the feeling you might be, too!








Gibson.com

Gibson's 2019 Les Paul Studio Tribute Page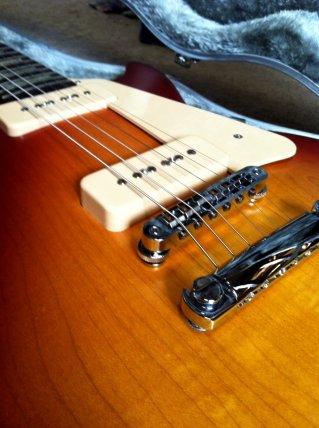 =

=