WHERE THE "BOOM" LIVES

---

2022 MARTIN HD-28 STANDARD REIMAGINED REVIEW





11/29/2022

The acoustic guitar therapy has failed. We are at it again.

It all started with another fact-finding mission that occurred when I became enamored with the big, strummed sound I heard in some acoustic rock songs from the 1970s onward. In particular, I zeroed in on Mark Heard's "Nod over Coffee," "Look Over Your Shoulder," and "To See Your Face," that were played on a D-35, as well as Neil Young's "Tell Me Why" and "Heart of Gold" that were played on a D-45. Those are just examples but there were thousands of songs that featured big, robust flatpicked sounds that were obviously played on big guitars. I knew the sounds on my particular examples above came from Martin dreadnoughts, but surprisingly after all these years, I didn't know that much about Martin dreads themselves. The story of my distance from Martin guitars can be found in my account of getting my first Martin a year ago, over HERE. Meanwhile, I have a great Engelmann/rosewood Taylor 710ce dread that I use for deep-bodied fingerstyle work in the studio, but, SURPRISE, it sounds quite different from the classic Martin dreads when strummed hard or flatpicked. Um, duh. But when that happens, when I encounter a sound I like that none of my guitars will create, something in my head goes, "Why is that sound different from the sound I am able to get? What would it take to get that sound?" Warning, Will Robinson! This might get expensive. So as usual, my quest started when I decided to find out if that classic sound was available in a modern guitar. No intention to buy one. Just fact-finding.

RESEARCHING, COMPARING
I spent quite a bit of time studying articles, watching videos, and reading opinions on the 'Net that compared the many and various Martin dreads. My research began to zero in on Martin's Standard Reimagined series because they represent the "standard" Martin instruments but also offer a few of the favorite design tweaks from Martin's own production history. The Internet resources are great, but nothing beats holding a guitar in your own little grubby hands, listening to it, experiencing the action, and feeling it resonate against you chest. You've got to "grok" it. To get that experience I visited a couple of Martin dealers in my area to compare their dreadnought models. The first dealer only had a lonely D-18 in stock but was "willing to order any guitar I wanted." That wouldn't do at all, would it, because I try before I buy on the big purchases. However, I lucked out at the second dealer who had a D-18, a D-28, a D-35, and an HD-28 in stock, all from the Standard Reimagined series, and protected in a big glass display cabinet. The salesman sat me down in the acoustic room and brought me the guitars, one-by-one. It was great to be able to compare them, right on the spot, and revisit models as needed. Shrewdly, he held back the HD-28 as the last one for me to play. As he pulled it out, he put on a sly grin and said, "Mmmm... Now, play this one... I guarantee you won't go back to the others." Holy mackerel!!! Was he ever right. The HD-28 easily jumped out from the bunch, paradoxically as both the bull cannon and the most responsive to light playing. Once I got comfortable with it, Neil Young's flapicked "Tell Me Why" jumped right out, sounding just like the original recording. Fingerstyle pieces like a new one I was developing for my wife also sounded great with the strong, round treble-string tone. This HD-28 quickly became the guitar to beat in my comparisons.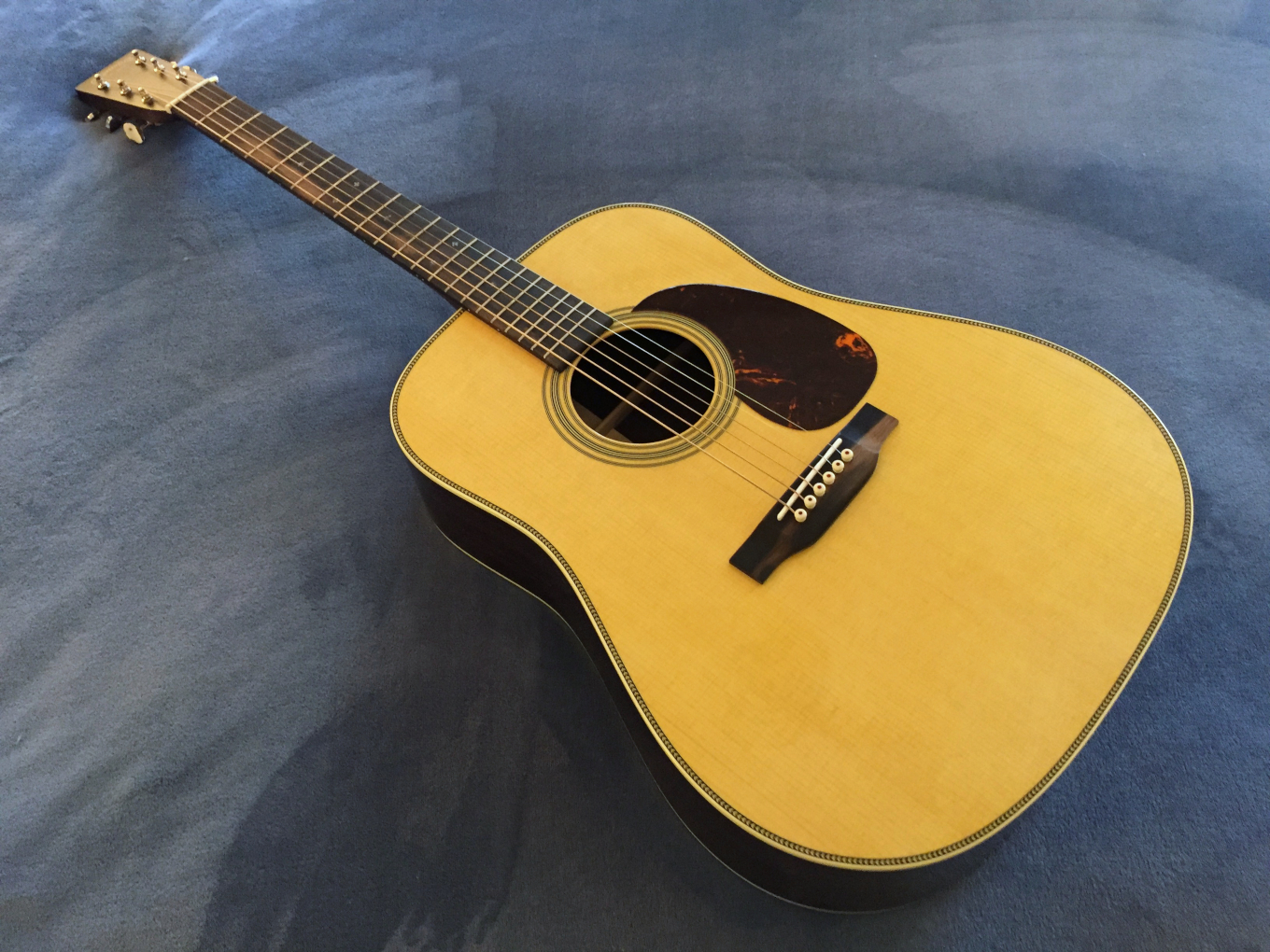 Click picks for larger versions.



HD?... HIGH DEF?
Now, what about that "H" prefix in the guitar's name? To show off its upgrade status, the HD-28 features Martin's "Bold Herringbone" trim around the top that earns it the "H." In this case the model code is "H" Herringbone, "D" dreadnought, "28" for level of trim and woods. Believe it or not, back in the first part of the twentieth century when this guitar debuted, the numerical code also indicated the price of the guitar! Adjusted for inflation, that is $763 in todays money. Hmmm... So, what does the guitar have to offer? Bold, round trebles, boomy, full bass, and a much more responsive top than the other Martin dreds I tried. The HD-28 features scalloped, forward-shifted bracing, differentiating it from the non-HD guitars that have non-scalloped, forward-shifted bracing. The scalloping of the braces frees up the top to respond more quickly to right-hand input. Just for an historical perspective, Martin's pre-war dreads started the trend with scalloped bracing, making them highly sought after these days. However, after World War II, Martin found that soldiers were bringing back their Martins from around the world that were in bad shape from rough handling and needed warranty work. Martin abandoned the scalloped bracing to beef up the tops. Later in the century as the older dreads became highly desirable, the company brought back scalloped bracing in the HD line. This example is fitted with a nicely silked sitka top with wide grain and aged toner and some very nice, straight-grained rosewood sets for the sides and back.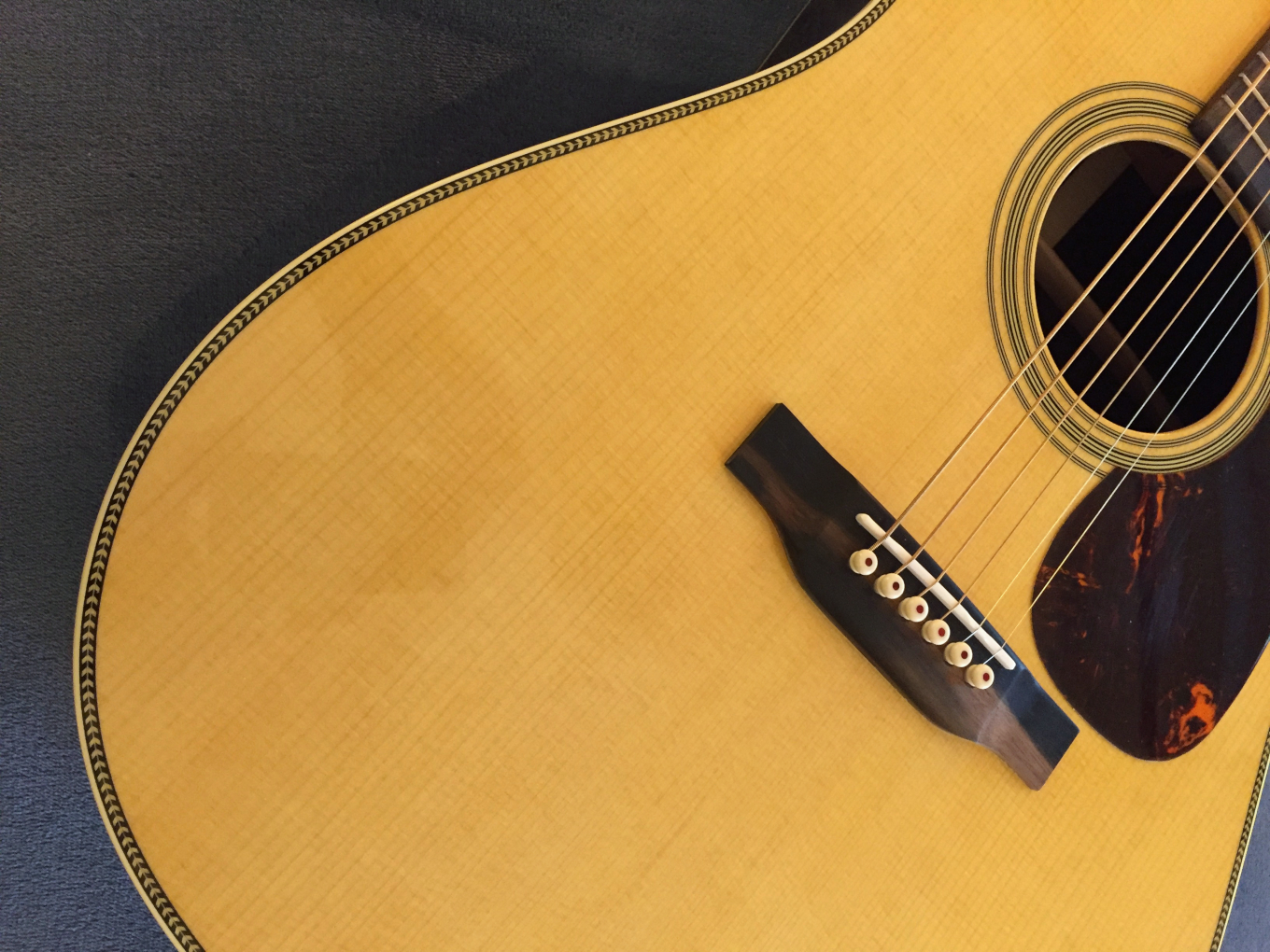 Note the herringbone body trim and figured ebony bridge.



The guitar's visual aesthetic may appear plain from a distance, but the closer you get, the more intricate it becomes. At first look the herringbone might seem like a one-piece trim but closer inspection reveals that it is built up from a zillion tiny bits. I had no idea that was true until last year when my wife bought me another lovely Martin with Herringbone trim. This present guitar features Martin's "Diamonds and Squares Long Pattern" fretboard inlay, a zigzag back center purfling strip, a tortoise pickguard, aged toner on the top, reverse-out white bridge pins with red dots, and a faux diamond volute behind the headstock as a nod to tradition. In the pictures you can see that they used un-dyed, variegated ebony for the fingerboard and bridge. The use of un-dyed, variegated ebony started sometime in the year since I acquired the OM. An announcement from Martin heralded this move a couple of weeks after I acquired this guitar. Of course, Taylor Guitars, who co-own the largest supplier of ebony in the world, announced that they would begin selling variegate ebony a couple of years back in order to protect the supply of ebony. Before they made this move, only a tenth of harvested ebony was going to market. The rest was ending up on the forest floor because it was impossible to discern the black purity of a tree until it was cut down.

When I first tried a Martin 28 series I thought the neck was bound. Not so. Binding gives the neck a smooth edge that makes it more comfortable than a typical fretting job with the fret tangss set all the way to the edge of the board. The HD-28 is fitted with "pocketed" frets. Pocketing involves trimming the fret tang ends shorter than the crown portion of the fret and cutting the grooves in the fingerboard short to fit those shortened tangs. Once the fret is installed, the process leaves some ebony between you and the fret tang end. When a pocketed fretboard edge is finished, the effect is that it feels just as smooth as a bound fretboard. Nice.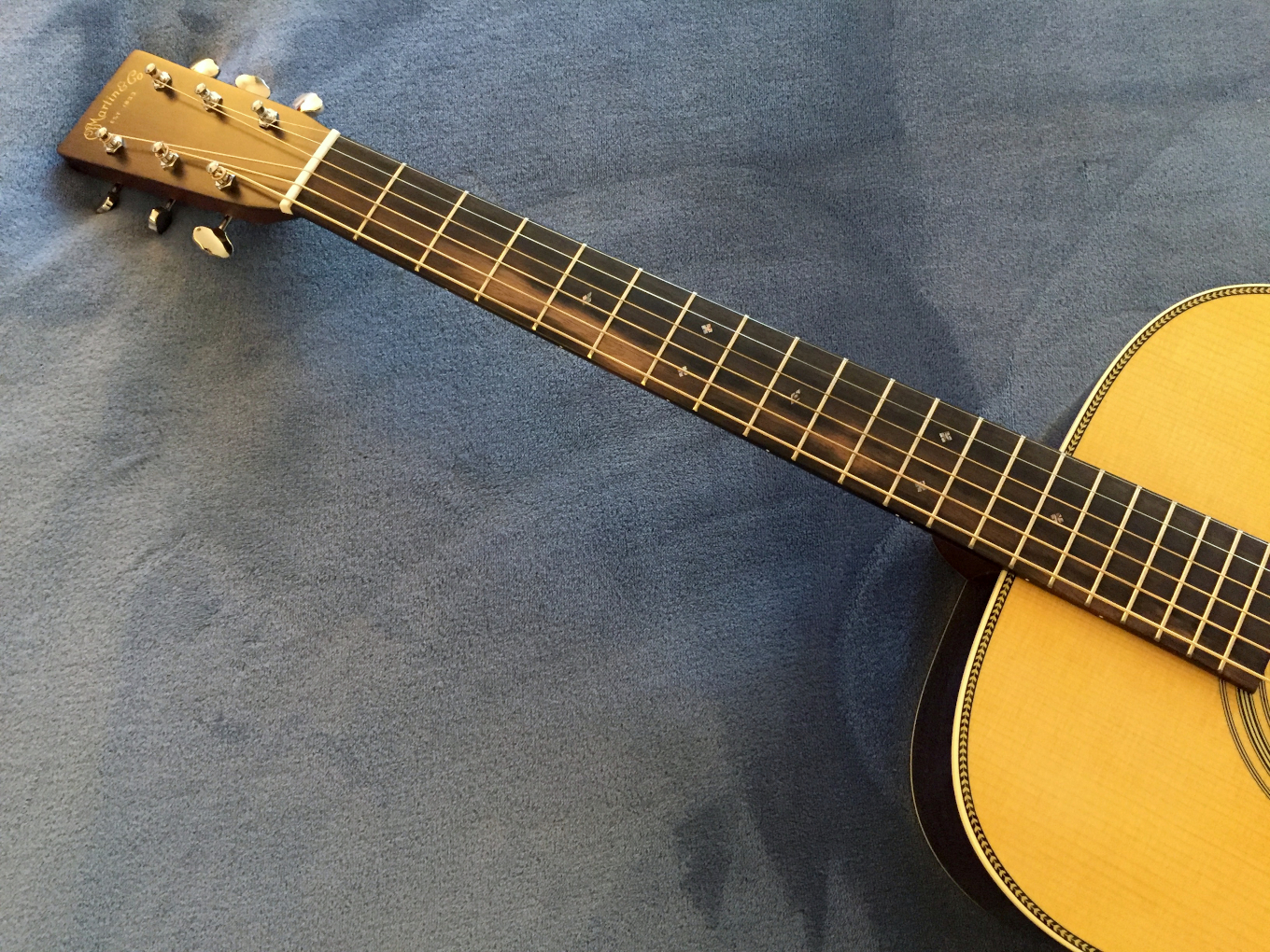 Note the abalone "Diamonds and Squares Long Pattern" fretboard inlay and variegated ebony.



GOING HOME
Two weeks after the first trip, I visited the dealer with my wife to technically evaluate the guitar. I take her with me because her practicality keeps my Guitar Acquisition Syndrome in check and her ears provide a valuable second opinion for me. Hilariously, when I asked her to come along, she grabbed my little guitar fund and gave me a wry look like, "You know you will need it." After having experienced the Martin line on the previous trips, this time I paid more attention to the neck angle, relief, and fit and finish on this particular guitar. Once I was satisfied that it was bilt well, I squared off with the manager and took the time to negotiate a deal. When we came to an agreement, including a new set of strings, the guitar went home with me.

Once the Martin was home I had time to consider a few details. As it came from the factory, the neck had too much relief for me. That contributed to an action that was way too high, all the way from the nut to the top of the neck. I ordered a truss rod tool from Martin and reigned it in with a few gentle tweaks, comparing the relief to my Martin OM that was set up. Once I got that squared away it was time to decide on the the other variable: do I stay with the medium strings the guitar was delivered with or go to lights? The rest of my acoustic guitars are all strung with and set up for lights (.012). I run my electric guitars with extra lights (.009), so I haven't traditionally liked anything heavier than lights on the acoustics. However, part of the magic of this big dread is the huge, unyielding medium strings and their powerful sound. After a few weeks of playing and adjusting the relief I decided I would stick with mediums on this one guitar to maintain its rich, boomy sound. It is requiring some toughening up of my wimpy calluses, but what can you do?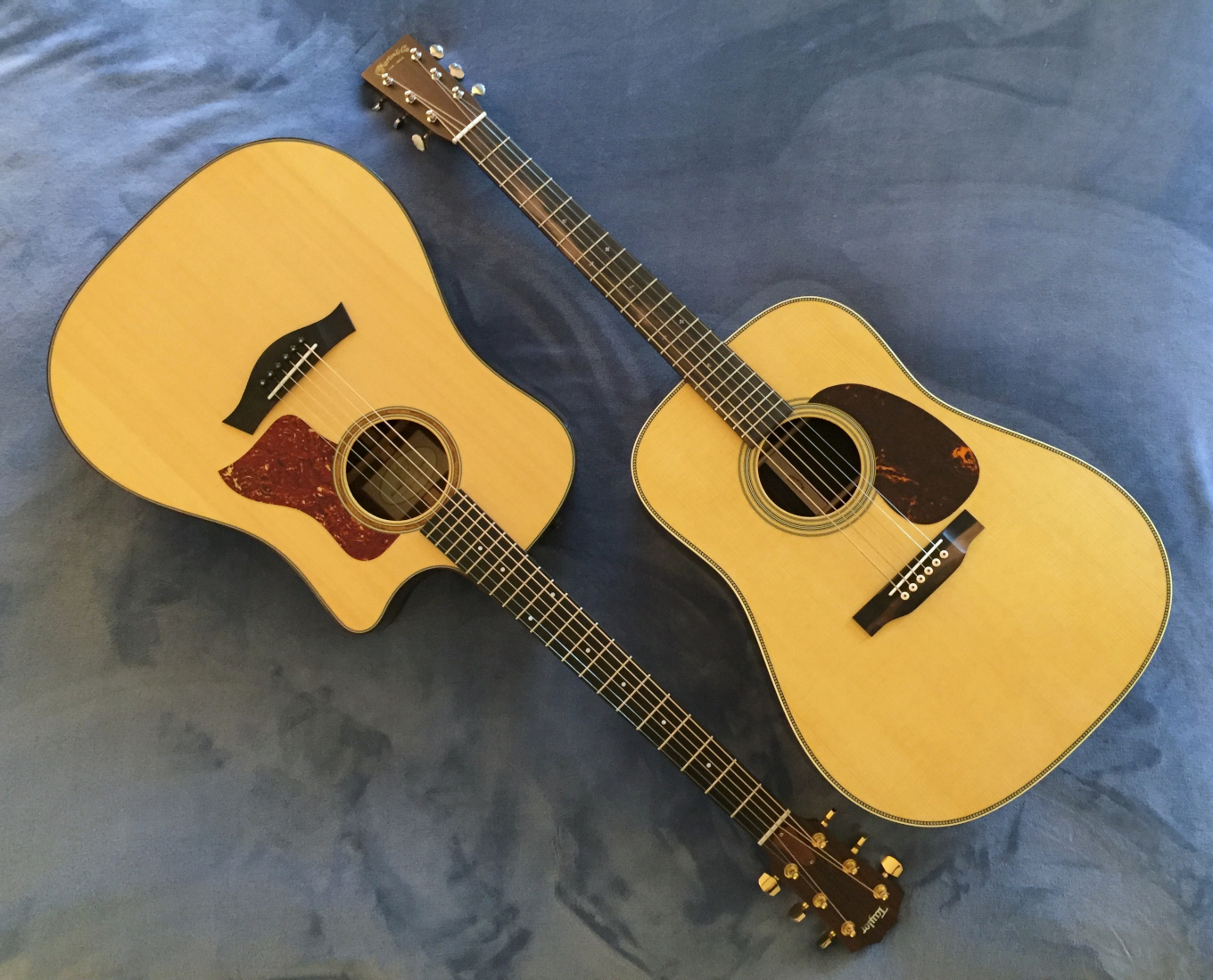 Taylor 710ce and Martin HD-28. "Twin Sons of Different Mothers"




TAYLOR vs. MARTIN
I suppose comparisons are natural and inevitable but a comparison between my Taylor 710ce and the Martin HD-28 is, on its face, a bit unfair, because I've restrung the 710ce with light gauge strings rather than its native mediums. However, I can say that with its Engelmann top, the Taylor is both brighter and more refined in the upper-mids. It also has a deeper midrange scoop than the Martin and a tighter bass. In the studio it is great for really defined light chording with a combo and makes an easier, more intimate fingerpicker that responds to a lighter touch. By contrast, the Martin has a much more responsive and boomy bass. It is more raw and more 'woody," and has a more bold upper end. The Martin is a bit... um... wilder... more rustic. It also does pinch harmonics quite a bit easier than the 710ce and has a bit more twinkle in the far upper end and thus more "chirp" when strummed. Love those audio discriptors. It is definitely a stronger, more compelling and robust strummer with a dynamic low end for strong singer/songwriter music and strummed rhythm work, both in the studio and for leading songs.

IMRESSIONS, IMPRESSIONS. TWO MONTHS IN
I typically dislike reviews that are generated right after the reviewer acquires an instrument because I think the honeymoon phase clouds the judgement, so I let the guitar settle in before I started writing. I think the guitar will still need a setup and fret dress from my luthier, Kenny Marshall, to reach its peak performance. This guitar is LOUD. It is not the guitar I will be playing at 7am on Saturday when my wife is still in bed. With its deep, full voice, it will easily reach through the walls and wake her up. I think the Martin OM is the guitar for early mornings. The bold voice of the HD-28 reaches across all the strings right up to the high end as well. I do have to say that the right-hand effort required for fingerstyle with the mediums strings will give you a real workout. As a result, the workload between the Taylor and Martin dreads has settled in rather naturally, with most strumming going to the Martin and most fingerstyle going to the Taylor. There's some crossover and there will probably be more, once I get the HD-28 set up. The positive side is that there is a stiffness, a robustness to the strumming sound, with the initial attack going sharp far less that on a light string, that I'm not sure you can get without stringing up with mediums.

ONE MORE THING...
I'll preface this by saying that I LOVE TKL cases, both the company and cases themselves, and I have several. The company headquarters is right up the road from me (okay, 127 miles, but it is nearby). This particular line of cases, the TKL Concept 2.9 Pro-Form USA Molded OEM series, customized for Martin, are made at the plant right there. Some of the wood/Tolex cases are made at their plant in Canada. TKL makes a quality product and they are the leading on-time supplier of cases to the musical instrument industry.

With that said, I find that moving a gloss guitar in and out of these thermoplastic cases with their aluminum valances scares the crap out of me. When the top is open, the short lid tab makes the lid loom over the guitar at an angle and the valances and draw-tight latches are like bared teeth looming over the guitar, just waiting to dig into the top. There, I said it. It bothers me enough that a year ago when my wife got me a OM-28 I switched the Pro-Form case to the Martin 300 Series wood/tolex case, both to avoid the aluminum valances and so that the case would play nice with the rest of the cases leaned against my wall. I've been advised to hold open the lid with the right hand and handle the guitar with my left hand. This molded case also REALLY sticks out from the wall. But once again, there is an upside here: even when this big guitar is inside, this is the lightest case I have.

CONCLUSIONS
So, after my search and after the guitar has settled in, I've found the HD-28 to be everything I was looking for in dreadnoght tone and playability. You can lean into it while strumming and get that full, compressed, boomy sound; you can flatpick on the instrument for a solid, full tone across the fingerboard; and you can even play fingerstyle on it, albeit with some right-hand effort. The guitar projects effortlessly. The materials, fit, finish, and craftsmanship displayed are excellent as well. Even in these inflationary times, Martin's HD-28 Standard Reimagined has shown itself to be an excellent value and, in its present form, does, indeed, offer the sound that I've been hearing for years.



SPECIFICATIONS, 2022 MARTIN HD-28

Overview
Body Size: D-14 Fret
Finish Top: Gloss
Back and Side Finish: Gloss
Bracing Pattern: Forward-Shifted X-Brace
Brace Shape: Scalloped
Top Material: Sitka Spruce
Back Material: East Indian Rosewood
Side Material: East Indian Rosewood
Construction: Dovetail Neck Joint
Scale Length: 25.4"
Fingerboard Width at Nut: 1 3/4"
Neck Shape: Modified Low Oval
Neck Taper: High-Performance Taper
Electronics: Optional

Top
Top Color: Aging Toner
Binding: Antique White
Top Inlay Material: Bold Herringbone
Pickguard: Tortoise Pattern
Rosette: Multi-Stripe
Bridge Style: Modern Belly - Drop in Saddle
Bridge String Spacing: 2 5/32"
Bridge Material: Ebony
Bridge Pin Material: White Plastic
Bridge Pin Dots: Faux Tortoise
Saddle: Compensated Bone
Saddle Radius: 16"

Body
Brace Material: Sitka Spruce
Brace Size: 5/16"
Back Purfling/Strip: Zig-Zag
Back Inlay Material: Multi-Stripe
Heelcap: Antique White
Endpiece: Antique White
Endpiece Inlay: Multi-Stripe

Neck
Neck Material: Select Hardwood
Finish Neck: Satin
Neck Color: Dark Mahogany
Neck Joins Body At: 14th Fret
Fingerboard Material: Ebony
Fingerboard Width at 12th Fret: 2 1/8"
Fingerboard Inlay Style: Diamonds and Squares Long Pattern
Fingerboard Inlay Material: Abalone
Side Dots: White
Number of Frets Total: 20

Headstock
Headstock Shape: Solid with Square Taper and Diamond
Headplate Material: East Indian Rosewood
Headplate Logo Style: Script Old Style Overlay
Tuning Machines: Nickel Open Gear
Knob: Butterbean
Nut Material: Bone

Misc
Case: Molded Hardshell
Left Handed Availability: Yes
Pleked: Yes


Again, thanks to my lovely wife. If that is beginning to sound a little repetitive, consider that she has had a hand in most of my nice guitars.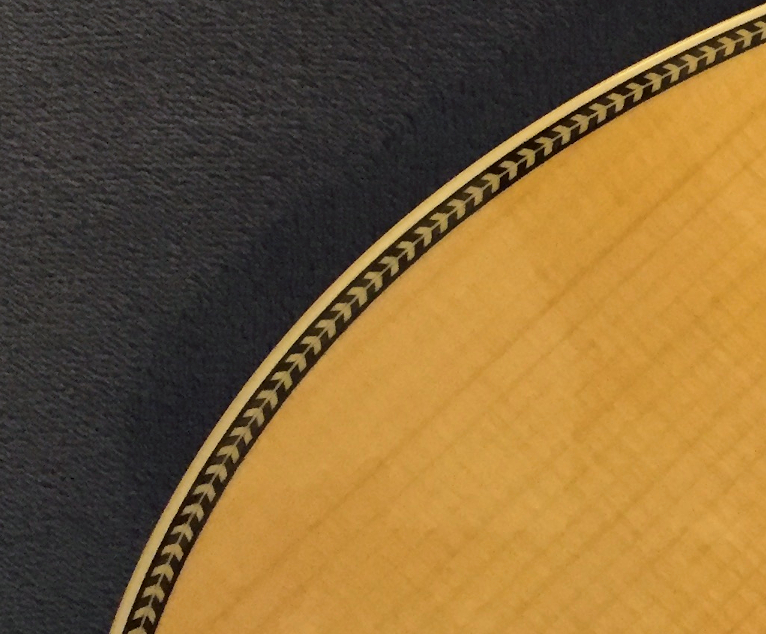 05/26/2023 Update:
Last week I took the HD-28 to my luthier, Kenny Marshall, for the typical new guitar setup I have him do. My wife and I made the journey across the bay to his shop to pick up one guitar and drop off this one. When I asked Kenny to evaluate the Martin, he started by playing it a little. Now, to understand his response, you must understand that Kenny is a life-long, diehard Martin man. After a little playing he looked over at me with a wry smile and said, "You must be living right. This is quite a guitar!" He was impressed by its powerful, responsive bass and by the way the high strings come cross strongly but are not shrill or thin at all. I described the high end as having "authority" and he agreed. He asked me to play one of my recently-composed fingerstyle pieces on the Taylor K14c that he had just refretted and then on the Martin HD-28. Interestingly, both he and my wife preferred the way the song sounded on the HD-28. Though he was fairly impressed with the Martin's factory fretwork ("I can't complain too much."), Kenny found a couple of strings that were higher than the others, the usual hump at the neck joint that could be eased a little by fret dressing, and a little too much height at the nut. He'll handle all these issues and make his twelve cuts with a file on the fret ends to make them more comfortable. I also asked him to install the end pin. It should be ready in a week or so.



****


A week later the guitar is back from Kenny and I've got to say that the difference in the HD-28 is spectacular. While it had a great voice at the start it was a little unwieldy to play because of action height. It was delivered with medium-gauge Martin Lifespan 2.0 strings and I liked its sound with them so much that I decided that I wanted to stay with them. I was hoping that Kenny would be able to make the guitar comfortable for me even with the mediums, and boy, did he ever come through in spades. I've spent a couple of days flatpicking and playing fingerstyle and found that this is one of those cases where a guitar was dramatically transformed by a professional setup. You can sometimes forget just how profound a difference that an excellent setup can make. The guitar is far more comfortable to play than it was when it left. It delivers that big Martin dread sound without much left-hand effort.

Kenny remarked that he was surprised how dry the fingerboard was for a new guitar. He oiled it with his favorite product, Roche Thomas Fingerboard Oil, and that made it look far richer than it had. When he's used it on my other guitars I've notice that it lasted a long, long time. He also did a deep polish on the guitar's finish that just made the instrument glow.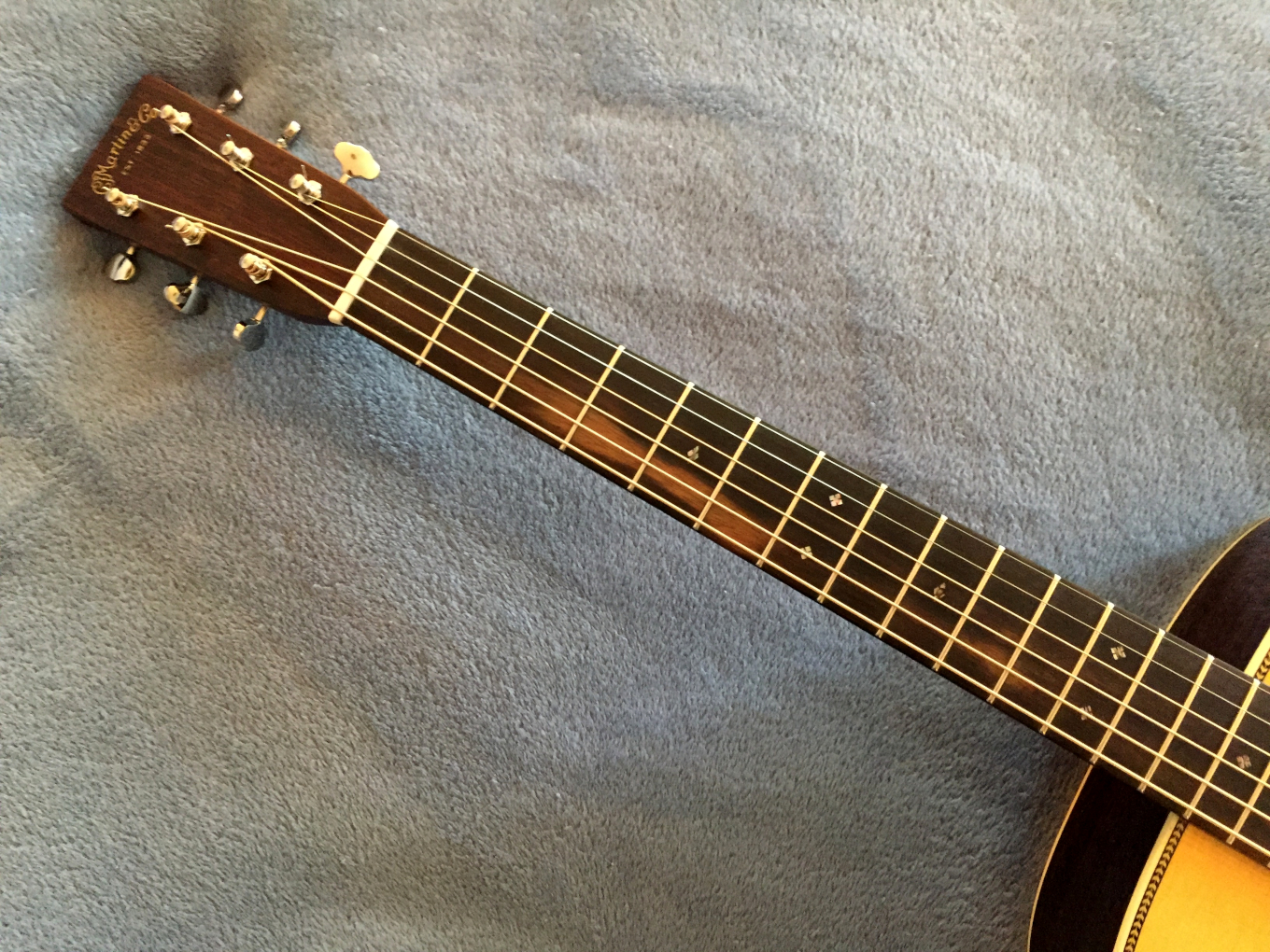 Nice work, Kenny!!!





=

=