Automotive Mid-Life Crisis

---




What Now?



"What is the meaning of life?" "Remember when we were young and crazy and didn't have a care?" "Is this all there is to me?" "Where did the time go?" "What the heck am I going to do with the next forty years?"

They are all interesting questions, and ones that play at the mind of a forty-something male. Recently, while I was mulling over these questions, I had an encounter with a particular form of therapy which I though you should hear about: "It's midlife, and a boy's thoughts turn to.... sports cars."

Let me preface my remarks by saying I grew up in a family that owned a wide variety of vehicles including some sports cars and an early Mini. I even crewed a rally Triumph Spitfire. My family did own some more pedestrian autos, such as a '63 Chevy Impala and a '70 Kingswood Estate Wagon. Once my own little family was established, we purchased eminently practical VW Rabbits and Golfs before moving into the soccer years and a Dodge Grand Caravan and baseline Honda Civic. But frankly, by the time I reached my mid-forties, I was bored to tears with my marvelously reliable '89 Honda Civic which had given me fourteen good years.

My how midlife does change things! A man wakes up and realizes he's been head-down, hand to the plow for twenty years. There's a temptation to thrash about a bit, find some excitement, and try to break up the overwhelming monotony with something... anything... But thankfully, our morality usually limits our responses so we seek solace in cars and hobbies. As a result, the deep, philosophical questions at this stage of life become more pedestrian, i.e., "What is the basic purpose of a car?" "Exactly how important are aesthetics and performance?" "How practical must a car be to suit?" "Why haven't I ever gotten around to buying that car I've always wanted?" "What happened to my taste in cars when I reached the age of 40?"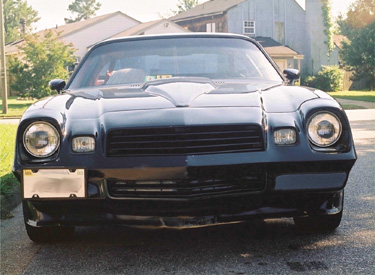 My nineteen-year-old son with no responsibilities recently bought a classic 1981 Camaro Z-28 with a carburated 350cc engine and tuned exhaust. At idle, the darn thing sounds like a PT boat. A weekend babysitting his car around town (while he put trip miles on my Civic) left me hungering for, well, something more in my driving experience. You know: speed, quickness, maneuverability, and for that matter, those nice stares people of both genders give your car at stoplights. Real Tim (the Toolman) Taylor stuff. What an amazing experience it was to sit behind a large performance engine again. While driving his car, I also rediscovered that I like small cars. While I was basking in the afterglow of all this, a friend who owns both a 2001 Corvette and a 2000 Camaro Z-28 brought my attention to a car he was researching: the New MINI Cooper S. He eventually came to the conclusion that the Cooper S was just as technically advanced as his Corvette and just as much fun to drive. Enter the little red sports car....




~ The Test Drive, Part I ~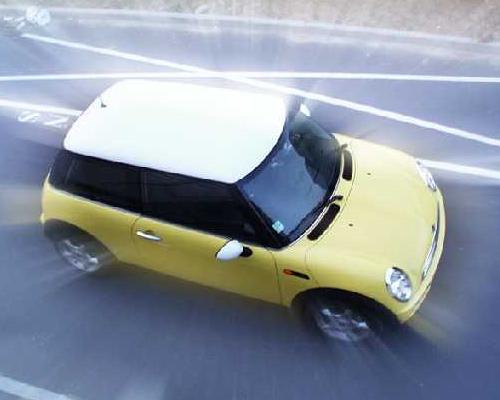 One day, just for yucks and with no money on hand, my tolerant wife and I trundled off to the dealership to test-drive the MINIs. Big mistake, ladies. The base-model MINI Cooper turned out to be a sweet car with excellent handling and response. The new design serves as an excellent evolutionary step from the original Mini. Coupled with the crisp five-speed transmission, the 115 hp, Brazilian-built Tritec Pentagon engine offers lots of smooth get up and go while the electrical power-assist steering preserves the feeling of closeness to the road. The appointments and ergonomics are extremely nice indeed, imparting the impression that this is no stripper, but rather a luxury compact car. ...Sniff... It was obvious the MINI would be a profound upgrade in performance and comfort from my Spartan Civic. We had just test-driven Volkswagen Jettas and New Beetles and the contrast in handling was ASTOUNDING, and largely in the MINI's favor.



~ The Test Drive, Part II ~



Now, the second ride of the day, the MINI Cooper S, ratcheted up the driving experience from pleasant to dazzling. While on the surface, the visual differences between the MINI and the Cooper S are subtle (functional hood scoop, body-color grille, center-mounted twin exhaust), underneath, there are some more substantial differences: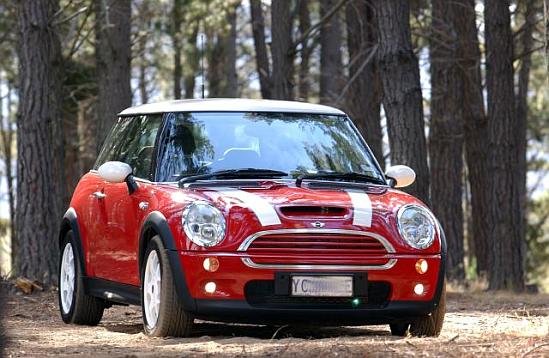 MINI Cooper S, Chili Red with white top, mirrors, and bonnet stripes



1.6 liter transverse supercharged four-cylinder engine
Eaton helical supercharger
163 BHP at 6000 rpm
155 foot/pounds of torque
Power to weight ratio: 1hp. to 16.4 lbs.
Six-speed Getrag manual transmission
McPherson strut front suspension
Multi-link rear suspension
Electro-hydraulic power-assist steering
Four-wheel disc brakes
0-60 in 6.9 sec
Top speed: 136mph (electronically limited)
Built by the MINI division of BMW, Oxford, England.



But physical facts aside, the driving experience offered by the car was another matter entirely. With its supercharged engine and firmed-up suspension, the Cooper S screamed, "LIGHTEN UP, FRANCIS!" I ended up grinning from ear to ear and giggling the entire time I drove it. What a hoot! This unassuming little car, shall we say, heightened my desire to resolve my little traffic problems in ways other than slowing down (which is the only option in a baseline Civic). With the supercharged Cooper's power and handling, you can thread the needle in a variety of ways, either in traffic or out in the country. The tightness and responsiveness of both steering and suspension brought back the thrill of wringing a sports car through a tight S-curve or banking through a hairpin. This is definitely a car for straightening out the curves and "yanking and banking," to borrow a term from the fighter jocks. If it hadn't had a windscreen, I would have had bugs in my teeth! ...Ahem.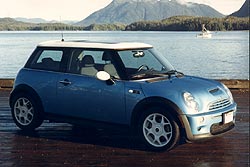 For confirmation, I drove it again. And again. And again. I took my sons out for test-drives. In all cases, it was a repetition of the "grin" test. My son, the Z-28 owner, couldn't quit giggling either. Before he took it out, the Brit-born salesman intoned, "Do try to keep it under 100 mph, please." I'm happy to report we were just barely able to accommodate him. When I took my wife on test-drives, even she couldn't repress a snicker. Zip! Zip! Zip!!!

BMW, owners of the MINI brand and designers of these cars, matched the engine and Eaton helical supercharger so well that you feel a broad, smooth band of power from the low-mid RPMs to redline. There is virtually no spike of power. Once you get above about 2200rpm the car is quicker than a jackrabbit on a date. It sticks to the road like glue and gives few clues as to speed, so you can easily wake up at ten to twenty MPH above the speed limit, grinning like an idiot. The steering is amazingly tight, solid, and responsive and lends an imminent, positive feeling of control to the whole affair. All of the pedals, switches, handles, and other assorted controls are weighted to give a feeling of comfortable solidity which I find missing from many other small cars. Using directional accelerometers, wheel-motion monitors, and brake and engine control, an optional Dynamic Stability Control (DSC) package helps to prevent loss of control in corners as well as hard starts and stops. The four-wheel disk brakes are solid and firm, with no appreciable fade. The overall feel of the car makes you want to swing the wheel back and forth and yell "Wheeeee!"
...Oh, I AM Sorry.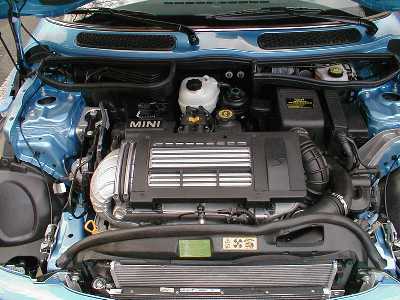 A nicely organized engine compartment.
Click on the image for detail.

---
Click HERE for more pics of a Cooper S engine.

Now admittedly, at release time the MINI is the smallest hatchback in America. It's so small that for the "S" variant, BMW was forced to shift the battery to the boot (trunk) to make way for the supercharger and its intercooler under the bonnet (hood). That change required that they toss the spare tire (!) and replace the regular tires with run-flats. Even at that, it is much bigger than the original Mini. Still, the car is small enough that you probably won't be carting "four and luggage" to Disney World. But then again, I recently heard of three college coeds who took a summer vacation with all their luggage in a Mazda Miata. With the MINI's rear seats up, you can probably fit one respectable suitcase, one duffel, and one carry-on in the boot. With them down, there's plenty of room.

Hmmm, a practical sports car?




See the 7" center-mounted speedo?
Click on the image to see a typical night application.

---

The car's designers did give the front-seat folks plenty of space, good ergonomics, and a luxury package to make this car comfortable, efficient, and extremely fun to drive. The pedal box is spacious and the pedals are arranged with the pedals near one plane, unlike some arrangements that place the accelerator pedal much deeper in the box than the others. The optional sport seats grip nicely and offer enough adjustments to allow most drivers to get comfortable. A memory-tilt function allows you to tilt the seat forward to allow a passenger to enter, then restore the seat to its original setting. The interior is designed with comfort and luxury in mind, with design cues pointing back to the '60s British rally cars and the original Mini. The seven-inch, center-mounted speedometer, the steering-column-mounted tach, the toggle-switch row, and the optional sports bucket seats give you that "sink-down-into-the-cockpit-and-drive!" feeling you used to get in the Triumph TR6 and British sports cars if its ilk. Switches. I do love switches. While the styling hearkens back to the rally cars of old, it is snarky, quirky, and individualistic enough to make you feel you don't blend into the lines of anonymous cars on the street. And while it doesn't contribute to an aerodynamic front-end, the upright windscreen gives you a marvelously unobstructed view. Together with the optional, dual-pane sunroof, the greenhouse surrounding you gives you the feeling your are in a screened-in porch rather than a car's cabin. The large sunroof is heaven for aircraft-spotting aficionados like myself.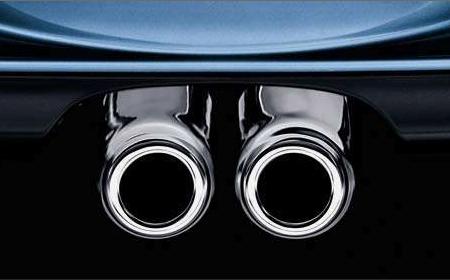 In the U.S., the MINI comes equipped with a very reasonable AM/FM/CD stereo system with a speed-sensitive volume control. An upgrade Harmon Kardon speaker/amp package is offered which should please everyone except hardcore upgrade car stereo blaster aficionados. On the other hand, your attention to the radio may be given a run for its money by the sound of the engine's dulcet tones, which were painstakingly tuned to please by the BMW's designers. There's just enough supercharger whine to let you know it is there, gently superimposed over a Porsche-esque rumble and bark. They've even altered the rear cargo cover to allow a little of the purr to leak into the cabin. Someone has called the sound "Roarty". That's nice. While the car's engine and road noise are agreeably low, don't be surprised if you find yourself wanting to turn off the radio and just soak in the engine's purr. Click HERE to get a little sample from the driver's position and HERE to hear the engine from outside.

When you factor in all the little finishing touches this car offers, the overall effect is of a well-engineered, well-designed, complete package which whispers in your ear of luxury while murmuring the benediction, "Go out and have some fun again. Who knows, maybe you've even earned it." Well, anyway, we may not be able to answer the centuries-old, deep questions, such as, "Why do men in their mid-forties want red sports cars?" We can, however, find solace in the fact that MINI has created a great little affordable performance car that can put a little fun into driving again. Here's to bugs in your teeth!



My New MINI Homepage: CLICK HERE