What's in the CD player?

---
Every stereo has its favorite CD. You know, the one which just JUMPS off the speakers, the one to which you keep returning, just because it sounds so gooood... I've found a CD which really makes the MINI Harmon Kardon sing. I've found that every time I demonstrate the H/K with this CD, it illicits a huge grina and a "Wow! That IS a great system!", even from inveterate audio guys. The CD is the latest offering from the Doobie Brothers, "Sibling Rivalry".




"Sibling Rivalry" CD has the loudest, most highly saturated mastering job I've found, while it preserves a nice dynamic range. The bass is extremely solid and the high-end very crisp. Well-known producer/engineer Elliot Scheiner was tapped for this mix, and it shows. The modern recording, mixing, and production techniques nicely update and compliment the sound of the Doobies, who were always on the cutting edge with their sound. Interestingly enough, because the majority of current members of the Doobies are veterans from the early seventies, they've been able to preserve (or return to) the original feel of the group on this, their latest album. The basic styles rotate around the Doobie signature tightly-performed classic rock and guitar-oriented music. The biggest rockers are cut one, "People Gotta Love Again", and cut seven, "45th Floor". In the middle are the more moderate, Motown-influenced cut four, "Jerico", cut five, "On Every Corner", and nine, "Higher Ground". Cut two, Pat Simmons' "Leave My Heartache Behind", which he jokingly calls "Son of Black Water", fills the summer good-time slot. Some feel that this album is a little laid back, but I, for one, love it. The "up" numbers will propel you down the highway nicely and the slower ones give you a break when you need to de-stress. By the way, there are special computer features imbedded on the CD including pics and a live video.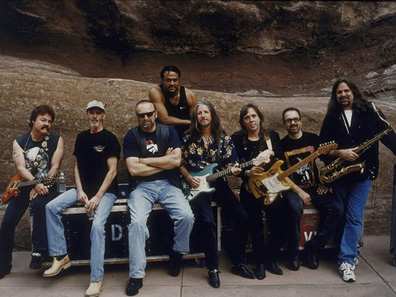 The Doobies Backstage at Red Rocks

When playing this album, I run the system in "MINI H/K" mode with no tweakage other than a little treble added over the flat setting. The louder you run it, the more solid the album's bass becomes. Even though I've had this one over a year, I've taken to leaving it in the "drawer" so I can listen to a cut or two on my lunch break.

Go HERE to read an interview with Tom Johnston, founder, vocalist, guitarist, and writer, in which he describes the album.



"Sibling Rivalry" (c)2000 Pyramid Records, distributed by Rhino Records


~//~