A Road Trip to see Wishbone Ash

---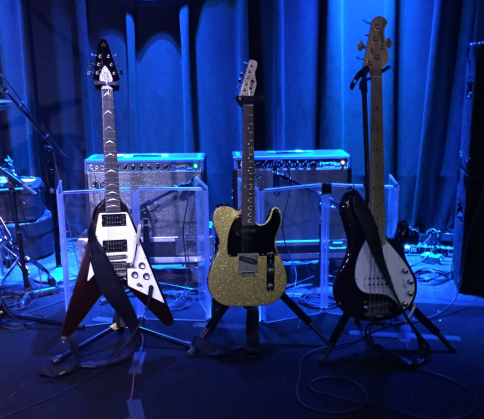 05/04/2019
The time was right: The band in question was formed in 1969, so at this writing we are in their fiftieth year and I'm not sure whether they'll be traveling to my area again. We are talking about one of my big guitar influences, Wishbone Ash. The original guitarists were voted "Two of the Ten Most Important Guitarists in Rock History" in Traffic magazine in 1989 and were among earliest proponents of the dual-lead guitar style. Though I had been listening to them since 1973 I had only seen them once live, in 1997. They've spent most of their touring life in Europe and places elsewhere and their tours in the U.S. tend to come further apart and contain only a few stops. One of those original guitarists, Andy Powell, leads the band now, wearing the hats of guitarist, lead vocalist, and manager. So recently, when my lovely wife heard they would play at a city near us the day after my birthday, she immediately exclaimed, "BUY TICKETS NOW!" and the travel plans began.

A couple of months lapsed between our ticket purchase and the date of the concert so I watched the band's website and looked forward to the day. The venue was an intimate dinner theater in Richmond, VA, called The Tin Pan that offers pub food, suds, excellent service, and a capacity of 200. We got to Richmond in time to check in to the hotel and get refreshed before heading over to the venue for dinner. Having watched this tour developing I noticed that this was to be the smallest venue on this leg of the tour. The band plays everything from festivals with attendance in the tens of thousands to these small venues. This venue was intimate indeed, but the place was packed. I wasn't surprised to find that the crowd was mostly grizzled seniors, die-hard fans from the '70s. Many had traveled like we had. My wife and I were seated with a thirty-something couple – her a hairdresser and him a bass player in a metal band. Interesting! After they ate their dinner they saw a friend arrive that they called "Good show Jim" – "if he's at the show you know it will be good because he only attends the good ones." Hmmm… good tidings.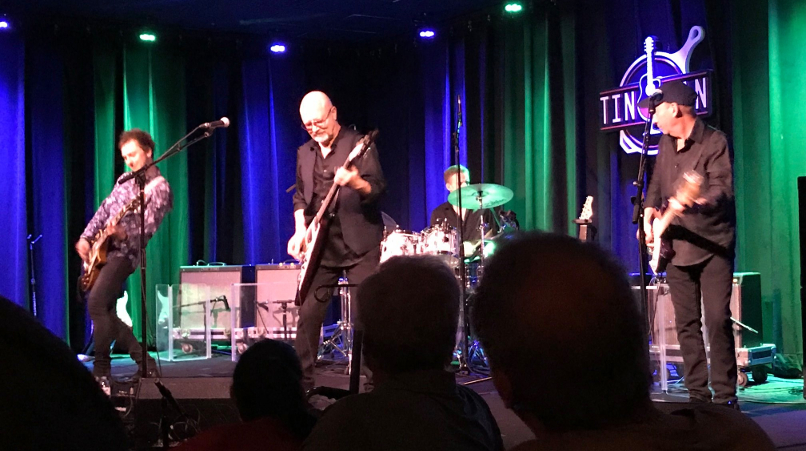 Photo courtesy Jimmy Schultz



The band came on promptly at eight PM and opened with a few powerful, newer cuts includng one from their latest album. Band leader Andy Powell is reknowned for his use of a Gibson Flying V guitar but he opened the show with a custom-built, gold sparkle Telecaster. That wasn't a surprise to me since I knew that he owns one of Roy Buchanan's 50's Tele's and has used it on many of the band's recordings. After three songs he did switch to a custom wine red Kevin Chillcott Flying V and played it for the remainder of the night. After doing this gig for fifty years, Andy can be expected to turn in a solid performance every night and this night was no exception. At this point he is the lead vocalist, a guitarist, the band manager, the road manager, and the booking agent for the band. The band's other guitarist, Mark Abrahams, switched between a Gibson Custom Shop '57 Gold Top Les Paul and a Bravewood 1955 Sunburst Strat. Mark joined the band a couple of years ago after the departure of Muddy Manninen. He's had some pretty big shoes to fill but after only a few weeks of rehearsal he played his first gig with them, a large Swedish festival! He has brought some new fire to their sound. He's a great combination of consummate professional guitarist and Wishbone Ash fan(!) and his face and playing show how happy he is to be playing with the band. He does a great job of threading the needle between preserving the band's classic sound and showcasing his own talents. The chemistry is excellent between the pair of guitarists as well. Both played through pairs of amps, Andy through a pair of Fender Prosonics and Mark through what looked like a pair of Hot Rod Devilles. They both had extensive pedal boards as well. Andy lives right near "Analog Mike" of Analogman Pedals so it is no surprise that his board features an AnalogMan King of Tone drive pedal. Let's just say that there wasn't a bad tone from either player all night. Bassist Bob Skeat played a Music Man five-string bass with a neck that reached into the next county. Drummer Joe Crabtree played a beautiful white Sonor set and held down the pocket marvelously.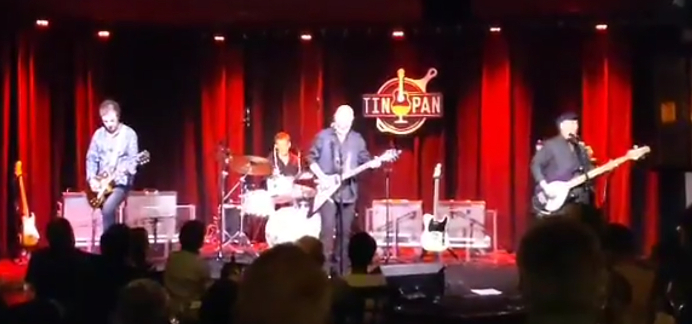 Photo courtesy The Tin Pan



Wishbone Ash started all those years ago doing something else entirely with the dual-guitar thing. They aren't just a jam band, but instead they blend blues, British folk, pop, prog, rock, and jazz into their own, interesting, semi-progressive form, often using the dual-lead guitars like a brass section to accompany or answer the vocals. In their arrangements, the bass also often functions as a third guitar in building the coordinated harmonies. The fifty years of the band's life have given Andy lots of time to develop all sorts of interesting textures from guitar and between him and Mark, they kept the lovely tones and melodies coming all night. It's an interesting phenomenon to me when you've been listening to a band for a while and finally get to see them perform live: its fascinating to see how they weave the songs you know from albums into live performances to excite the audience, how they expand the short-form songs into longer pieces, and how they are able to pull off in the live environment stuff you consider pretty complicated.




Early on in the performance they played the trio of songs from 1972's Argus album that have come to define them, "The King Will Come," "Warrior," and Throw Down the Sword." Of these, the last two were real standouts to me. They continued on to some newer cuts again and then closed with the standard from their first album, "Phoenix." After a standing ovation they came back out for an encore that closed with crowd favorite, "Blowing Free," also from Argus.

When the concert was over the band quickly changed and came out to the merchandise stand to meet the audience. This has become a staple of their live routine. It was fun to get a moment to speak to each of the band members. Bassist Bob Skeat was really open and talkative and his wife was managing the merchandising table so we got to stand around and yak a bit. There were people bringing up their forty-nine year old albums, pictures, and some guitars to be signed. Obviously, the band has developed a dedicated following and they were extremely appreciative of the show.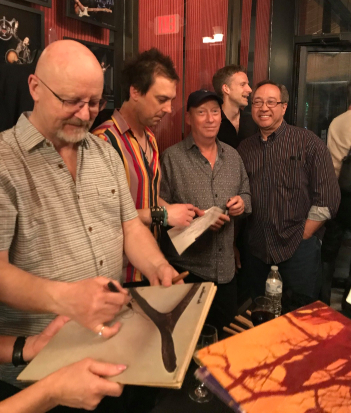 Andy (left) signs early '70s records for Jimmy Schultz (right)
The story of my life: I was just out of frame to the right.
Photo courtesy Jimmy Schultz



So, it was fun and exciting to see the guys bring the extensive Wishbone Ash catalog to life in a concert setting and to catch up with the members of the band afterwards. By the way, there is a series of CDs on their website that were recorded at recent concerts, if you want to see what they sound like these days. Volume Five, recorded at Sacramento, CA, is an excellent performance and recording by the current line-up. If you like dual-lead guitar and classic rock, don't miss a chance to see Wishbone Ash!!!




=

=