2016 Taylor 312e 12 Fret

---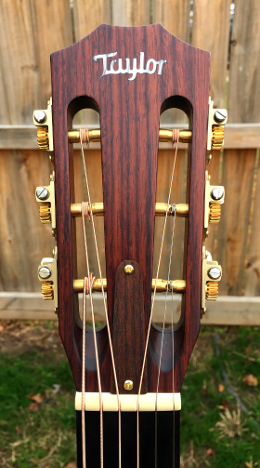 12/13/2017
(Click pics to load larger versions)

THAT TWELVE FRET THING
How is it that I seem to be behind every curve? The twelve-fret guitar thing hit long ago... long ago. But I've just gotten around to looking into the design myself. Now it did go into hibernation for a while... What is a twelve-fret guitar? Well, it isn't a guitar that only has twelve frets - it is a guitar where the neck meets the body at the twelfth fret. Until the mid-1930s, all steel-string guitars were twelve-fret guitars. But, as manufacturers strove to make guitars louder they increased the size of the lower bout. To accomplish this they moved the neck joint to the fourteenth fret and moved the sound hole and bridge up the body to match. The result was resistance to overload, a deeper bass, and a more forward treble. Volume wars!!! However, of late, players have been discovering that the older guitars with the joint at the twelfth fret have a more mellow, round sound that is quite pleasant for finger-plucked playing. Moving the neck joint, sound hole, and bridge back to their former locations places the bridge in the center of the lower bout. Though the resultant guitar has less bass than a larger guitar, it is more responsive to right-hand action and has a more dynamic bass that would be expected for its size. Many of those pre-1940s instruments also had shorter-scale necks, meaning that the length of the string from bridge to nut was shorter. The shorter scale causes the guitar to have a sweeter, smoother top-end than the longer scales and the strings feel less rigid. Many manufacturers combine the twelve-fret design with a shorter scale neck, and while they are at it, just for the sake of tradition, they'll often add a slotted headstock just like the older guitars had. All this adds up to a quieter, more intimate guitar with a more balance, a rounded sound, a silky, sweet "zing" on the high end, and a slinky action. It's just the thing for playing styles that require some left-hand articulation, that want a responsive right-hand response, and for styles that are played in quieter situations.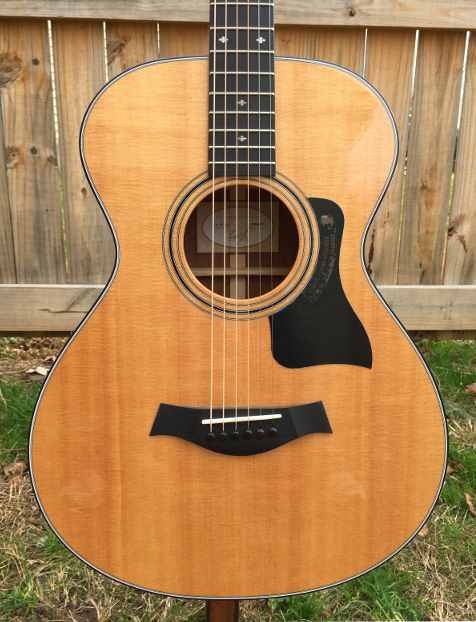 I think the first modern album where I heard this shift become apparent was Amy Grant's 2002 release, Legacy… Hymns & Faith. That album is full of small-body acoustic guitar sounds, especially in the finger-picked sections where the old short-scale grand concert sized guitars just shine. One song that especially stands out is "Fields of Plenty/Be Still My Soul," played by Richard Bennett on a 12 fret. There's a certain smooth midrange to the tone and a gentle zing on the top end that is very distinctive and pretty.

And about that slinky action: For a while I've felt that my left-hand techniques would have to be utterly different between electric and acoustic guitars. I do a lot of bending on electric guitar including micro-bends and vibrato involving pivoting the wrist. Gibson scale on an electric guitar allows all that. Of course, the fact that comparable gauges on electric are a whole gauge lighter that their corresponding gauges on acoustic doesn't hurt, either. I take it even further by using .009-.042 extra-light strings on electric. Those have been my electric strings for forty-six years. Meanwhile, back on the acoustic side, I've fallen in love with the intonation offered by the Taylor guitar line. From where I sit they've just gotten it right. Their home scale is Fender's 25.5" scale so I'd just figured I'd have to live with the left-hand technique limitations imposed by string gauges that are heavier and by Taylor's longer scale. I'd call the feeling "harder" and a bit more "formal." Then along came Taylor's twelve-fret, short-scale guitars.

VACATIONS SURE ARE HARD ON THE GUITAR BUDGET, AREN'T THEY?
I was on vacation. Staycation. Home with my darling wife the week after Thanksgiving. We'd been doing the usual sorts of things: home improvement, planning and decorating for Christmas, recreationally visiting stores that we haven't had time to peruse, etc. Vacations have traditionally been bad for my guitar budget because I get time to visit the better local guitar stores when my wife, my enabler, can go along with me.

It just so happens that the latter part of 2017 had been an a mildly uncomfortable period in my little guitar world. I had begun to have the creeping feeling that I was being smothered by too many guitars. I'd farmed some of them out to live at the studio but I still couldn't make the rest of 'em fit in my guitar room. The place had become a jumble. Everywhere I turned there was a guitar case in the way. It was a truly colossal first-world problem. I had come to the conclusion that a few guitars needed to go and had begun to discuss this with my wife. Frankly, she was amazed that I would part with any of them. I say this to point out that the last thing I wanted was another guitar.

So, at the beginning of the Thanksgiving staycation we made up a list of stores to visit for shower rods, par38 bulbs, Christmas decorations, and coffee. It just so happened that one of the better guitar shops in the area was near a store that we were visiting. While we were on the road I remarked to my wife that it had been months since I had been to that guitar store and that they had a new manager. My wife cheerfully piped up, "We ought to drop by!" Oh my. How could I refuse?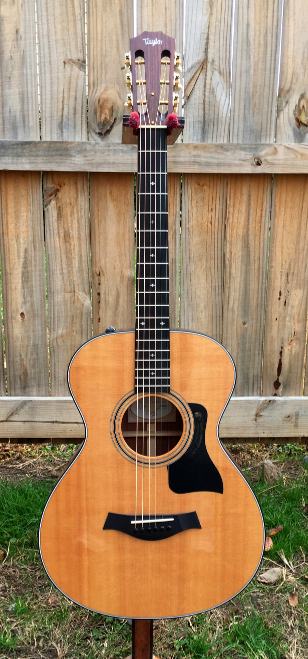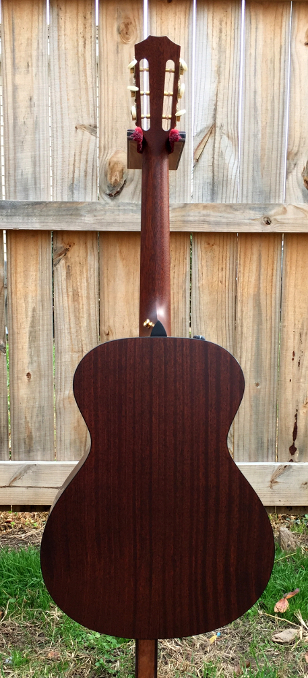 When we got there we just wandered along looking at the walls of guitars and talked with a salesman who pointed out a few new Taylors and Guilds. As we discussed Andy's new designs at Taylor my eyes dropped onto a Taylor grand concert twelve fret with the 24.75" scale and I asked to take it for a quick spin. I'm a Gibson scale guy who has shorter fingers and benefits from shorter scale. When I got the thing in my lap I was amazed with the rich midrange tone and the fantastic feel of the guitar. Another thing that stood out to me was the balance - the absence of low-frequency boom fighting against the mids and highs. I naturally started running down my favorite fingerstyle tunes while thinking of how balanced it would sound in front of a microphone. My wife looked over and said, "Wow, that guitar sounds great and I can tell you are really comfortable playing it." And you know, she was right.

What is it the Eagles penned? "Hopeless romance, here we go again." The guitar was a 2016 Taylor "312e 12 Fret" model. It had a nicely silked Sitka spruce top, a two-piece chocolate-colored sapele back, sapele sides, a mahogany neck, black binding, a bound, pure black ebony fingerboard with no streaks, a stripy Indian rosewood headstock overlay, and small diamond inlays that look more like tiny snowflakes. The neck was reasonably sleek with the slightest vestigial hint of "V" to it. The big question to me was whether Tayor's excellent intonation held up on their short-scale guitars because intonation is really, really important to me. The answer? It sure does. The guitar was also extremely responsive to my finger picking. The action was nice and low, the strings felt slinky because of the scale, and the guitar just felt like home.

The salesman said, "By the way, the boss still has the Black Friday sale up and this one is part of that sale." I did the mental math. Ding, ding, ding. It was a really good price. Nevertheless I replied, "Hmmm... I'm afraid I don't do anything on impulse. Let me think about this one overnight." I asked if he took trades (yes) and then my wife and I headed out to finish our excursion. Back in the car she said, "I liked how that guitar sounded and I could tell you were extremely comfortable with it and felt at home. And you know what? I watched your face and could tell you really loved it. It would make the perfect guitar to play on the couch. Let's make it happen, one way or another. We'll make it an early Christmas present." Oh. My. Gosh.


We eventually got home and I took stock. I had a fistful of dollars in my guitar savings account and three low-level electric guitars that had become redundant after later acquisitions. Thaey needed to be cleared out if I was to regain the elbow room I needed. I looked up these guitars' used retail prices and figured out their wholesale values based upon that. I figured between the guitars and my savings I could probably come up with the fodder to make the deal without sapping the family finances. Nevertheless, my wife repeated, "Whatever the case, we'll make it happen."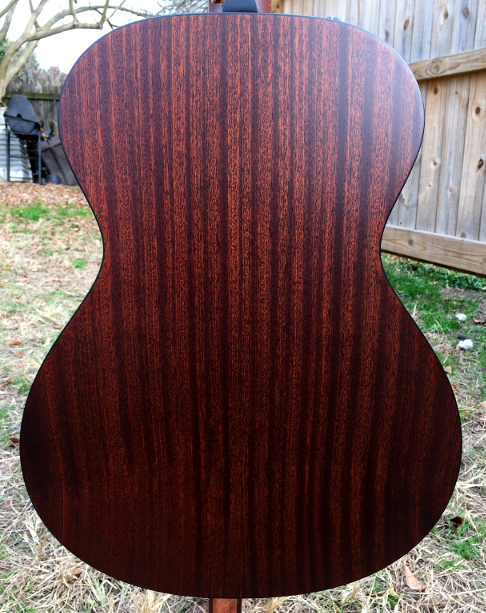 So, the next day we went back to the dealer with our pile o' guitars and got down to brass tacks. My wife and I had a figure in mind for the trade-in, a fraction of the Taylor's price that we were willing to accept. However, we were willing to walk away from the trade, buy the Taylor outright, and sell the other guitars on the open market if we couldn't get what we needed from them. The store's tech evaluated my trade-in guitars and our salesman went to the boss' office for an estimate. We sat and stared off into space, waiting for a verdict. Eventually the salesman came back with a smile and said, "I convinced the boss to make an even deal." My wife and I wanted to jump up and shout but instead we sat calmly and tried to hide our excitement. Never in our wildest dreams had we expected that outcome. This meant I was recovering nearly all my investment in the three guitars and I hadn't even had to bargain. What is it that Amy Grant has said? "A good deal is only a good deal if it is a good deal for everyone involved." The store was happy. We were happy. No wheeling and dealing required. A few minutes later I walked out of the store with the guitar without paying a penny. Weeks later we are still amazed and feel extremely blessed.


SO, HOW DOES THE GUITAR STACK UP?
I've spent a few weeks enjoying that high-end zing across the low strings and the more comfortable action afforded by the short scale and I've let the honeymoon period elapse. Firstly, the guitar exhibits immaculate fit and finish. The seams are tight, the wood choice is excellent, the craftsmanship is basically everything you've come to expect from a Taylor. The action is nice and low and the Elixer HD Light strings it came strung with allow a gentle feel on the left hand without starting to feel rubber-bandy. The sound fits into combo recordings well and is really easy to record. This is the most comfortable guitar to play on the couch that I've yet encountered. The body is small enough to cradle in your lap and the twelve-fret design shifts the neck back to where your right arm isn't over-extended over an arm rest. The ES 2® pickup system is probably their most natural-sounding system yet. The Elixer HD Lights feature strings in the first three positions that are one size larger than those in their regular Light gauge sets in order to maintain something near the same tension as is found on their Light gauge strung on a long scale guitar. I can see that my first experiment will probably be to try a set of lights to experience their effect on the feel and sound of the guitar. The next thing I'll do is add ebony bridge pins with white shell centers - It's kind of my trademark. And a note about Taylor series: You'd think that the lower-series guitars might be something less than the higher-series guitars, wouldn't you? As someone who plays both higher and lower-line Taylors I can say that it's not true. They all appear to be built with the same care and attention to detail as the high-line instruments. The main differences appear to be wood choice and level of trim... and that's it. This 312e is just as pleasant to play as the Koa Series guitar I started down the Taylor road with. And the bottom line is that the guitar has turned out to be everything I had hoped it would be: comfortable, intimate, and inspiring.

So, storage problems solved and new guitar day accomplished in one swell foop.







2016 TAYLOR 312e 12 FRET SPECIFICATIONS

Shape: Grand Concert
Number of Strings: 6
Back/Side Wood: Sapele
Scale length: 24-7/8"
Top Wood: Sitka Spruce
Body Length: 19 1/2"
Electronics: Expression System 2®
Body Width: 15"
Body Depth: 4 3/8"
Nut & Saddle: Tusq Nut/Micarta Saddle
Neck Width: 1-3/4"
Neck Wood: Tropical Mahogany
Bracing: Forward Shifted Pattern with Relief Rout
Fretboard Wood: Ebony
Fretboard Inlay: Small Diamonds
Headstock Overlay: Indian Rosewood
Binding: Black
Bridge Pins: Ebony
Tuners: Taylor Slot Head
Truss Rod Cover: Indian Rosewood
Back/Side Finish: Satin
Top Finish: Gloss
Neck Finish: Satin
Pickguard: Black
Case: Taylor Deluxe Hardshell Brown
Number of Frets: 18
Brand of Strings: Elixir Phosphor Bronze HD Light
Buttons: Ivoroid
Fretboard Binding: Black
Heel Cap Binding: Black
Heel length: 3-1/4"
Peghead Finish: Satin
Peghead Logo: Italian Acrylic
Peghead Type: Slot Head
Rosette Material: Plastic
Rosette Size: Three Ring
Type of Neck Joint: Scarf


UPDATE: CHANGES TO THE SPECS FOR THE 2017 MODEL YEAR FROM THE TAYLOR WEBSITE
The Indian rosewood headstock overlay has been changed to ebony and the rosewood trussrod cover has been replaced with a black plastic one. The "Forward-Shifted brace pattern with relief rout" has being changed to "performance bracing with relief rout." I'm not sure what the difference is. I am also told that in early 2017 the case design changed to be more a lightly built design with only four latches.

UPDATE 2: As of the 2019 model year this model is discontinued. Sorry.






=

=