That in Which "I Got My Martin"

---
A Review of the 2021 Martin OM-28 Standard Reimagined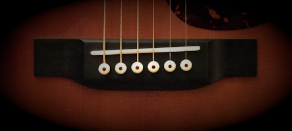 04/06/2022

BEGINNINGS
This is a tale that goes back pretty far. Let's just start by saying that I grew up in East Tennesssee, where Martin guitars are king. I longed for a Martin guitar throughout my youth but it never happened. I've written about this situation before, but I'll bring it forward and update it for this article:



I am from Dolly Parton country - the heart of "Olde Tyme" music. No kidding, Musicologist have gone up into the Southern Appalachians and researched this musical form and have discovered that it is actually the music of Elizabethan England. Much of it is set in the church modes. It traveled over the ocean with the settlers and moved up in the hills, where it has been passed down as an oral art form with very little change from the 1500s.

It must be understood that the offical guitar of the Olde Tyme Music movement is the Martin guitar. What was it that Charles Dickens said in A Christmas Carol? "This must be distinctly understood, or nothing wonderful can come of the story I am going to relate." In my community a certain "rite of passage" had developed: Everyone in the community knew you had arrived, you had musically become someone when you "got your Martin." It was that simple. At a gathering, an eight-year-old could get up in front of a crowd and play "Soldier's Joy." The grizzled farmer next to you, farmer, mind you, not guitarist, would look over at you with a twinkle in his eye and say, "Ain't he something? And that there is a Martin guitar. He got his Martin... at eight!" It was like some universal musical and spiritual meritocracy existed. If you were good enough, the skies would part and a Martin would descend to you from, uh, I don't know where. The eight-year-olds surely couldn't afford them. Clearly, a Martin wasn't something you simply bought, it was something you earned. It was a badge of rank bestowed from on high.

Now, I did begin to notice that my well-to-do friends got their Martins before the rest of us, regardless of skill or legitimacy. That did cause a pinch of doubt about this orthodoxy to grow in my heart, but I was still a believer. I waited for mine. It can't be denied that a Martin guitar DID give a player more audible authority than someone with a plywood box possessed. While I was still working as as soda jerk to save up for a decent guitar, the more well-heeled youth around me rather gleefully flaunted their Martins. When my turn came in a jamming circle, they'd look me in the eye, smirk, lean into their "lap cannons," and drown out my little plywood special Silvertone. Some of them would chuckle amongst themselves that only a Martin was good enough, yes, using a Gibson slogan. They'd do that right among us other guys who clearly couldn't afford a Martin. **Um, guys, we are sitting right here.** Nevertheless, as I got better, I just assumed that eventually even I would "ascend" and "get my Martin."

Only, I never did. And the dream quietly faded into the mists of time...



REAWAKENING:
With fifty some-odd years of guitar playing behind me, the upshot is this: here we are again with another tale of the old dog learning a new trick, the old dog being yours truly. By default, I seem to have ended up a Taylor acoustic guitar player for the last twenty years. It's not as if other brands were specifically excluded, but somehow, whenever I got a little dollop of money for an acoustic, the guitar that spoke to me was a Taylor. Then, about five years ago, I heard a performance from a folk duo named Alex and Janel that featured a really nice-sounding small body Martin clone and I was really impressed with the sound.





There's a certain "chirp" in Alex's Santa Cruz 000 that makes it sound sweet to my ears. I started watching for examples of that sort of sound in other productions. Then another video came to my attention featuring Vince Gill and his collection of vintage Martins. You can watch the whole thing, but here is the part that caught my attention:





I loved the sound of those lovely old Martin OM and 000 guitars in Vince's collection and my eyes were opened a bit more to what Martin had to offer. Perhaps I can blame the current rabbit trail more on Vince and Amy than on Alex. Truth be told, this makes the second time Amy has had an influence on me. She brought her Taylor 912ce into my studio way back in 1999 and started me on another research trip... Well, anyway, this time I was fascinated by the sounds of the medium-sized Martins and by the differences and similarities between the OMs and the 000s, so I started studying.

THE MODELS
There's a strange and wonderful history behind the two types: Up until 1929, all flat-top Martins featured necks that joined the body at the twelfth fret and all the models were just resized versions of the original design by founder C.F. Martin. However, orchestra leader Perry Bechtel decided he wanted to move away from the banjo to the guitar as the rhythm instrument for his orchestra. He asked for Martin to design a new instrument based on the 000 sized body but with more of the neck accessable to the player. Shop foreman John Deichman changed the radius of the upper bout of a 000 instrument to allow that access and created the fourteen fret flattop acoustic guitar.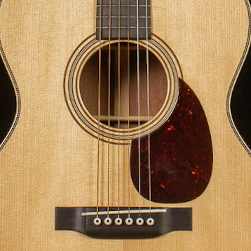 Because it was designed to be used in orchestras, it was called the "Orchestra Model," or OM. It was fitted with a a short, teardrop-shaped pickguard. The OM-28 was introduced to the world in 1929. The guitar had a long, 25.4" scale, which became the industry standard. The actual name of the guitar fluctuated repeatedly for the first few years.

Within six months the shorter pickguard was replaced with a longer guard and by 1934, all Martin guitars were offered with the fourteen-fret neck innovation including the new dreadnought models, and any model with a fourteen fret neck was called an "orchestra model." At that point the OM designation was blurred and then dropped so the instrument's name returned to "000-28" and its neck was changed to a short, 24.9" scale. The OM as a model ceased to exist from 1934 until 1969, on the fortieth anniversary of the original OM design, when a dealer, Music Emporium, asked Martin to create a special run of OMs in long scale. It wasn't until 1990 that the OM was reintroduced into the Martin line-up. In the same period the Eric Clapton 000-28 in short scale was introduced. Martin has chosen to place the short teardrop guard on the OMs and a longer guard on the 000s, and that is the easiest way to tell the difference between them from a distance.

VACATION... AGAIN
So, after slowly marinating in the Martin sound for a couple of years and trying to get close via a particular Taylor small body, I happened to go on a weekend retreat back to my home region of East Tennessee. Confound it!!! Guitar encounters always seem to happen to me while I'm on vacation, don't they? Is it something about breathing the free air? It sure is hard on the pocketbook. On a slow afternoon, I asked my lovely wife if we could stop by and check out Music Outlet, a guitar store in Sevierville, Tennessee. I'd heard good things from my friends about them for a long time and wanted to see the place for myself. One of the things I'd heard was that they are one of the largest Martin dealers in the country. If I was ever going to get to the bottom of the OM/000 thing, this would be the place to do it, no?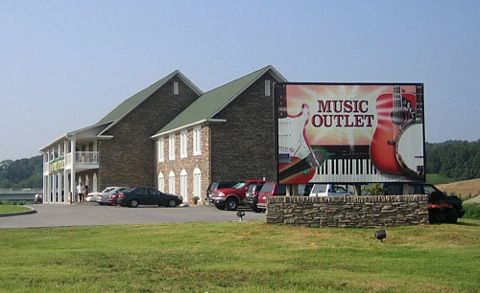 As I stepped into the two-floor foyer I had little idea what to expect, except that I could expect a big Martin presence. Right in the foyer the theme was set: the wall section between the first and second floor was decorated with classic Olde Tyme instruments, some expensive some cheap. Surrounding me were ancient oak and glass store display cases. Because my wife spent a good part of her career in retail management she was tremendously impressed with those display cases. All around the top of the walls were hung used violins and fiddles. At the front of the first floor there were two side wings or rooms and a huge back room that spans the width of the building. The front counter and technician's station was centered between the foyer, wings, and back room.

Now, this is what I call a "dirty shop." That is my own term and one I use with the greatest respect. I grew up spending many lovely hours in "dirty shops," trying out guitars of all types and learning the ropes. By "dirty," I don't speak in terms of hygiene but mean that it is a store with all its inventory, used and new, right out on the floor. There's a rustic, homey feel to the place. This isn't a store with everything presented in bubble packs and mounted on the latest immaculate music retail wall technology. There's all kinds of interesting "stuff" in the store and much of it is open for you to access. You don't get the impression of everything being hermetically sealed. There's a fair assortment of vintage and used instruments, which indicates that they take trades. To an extent, the place is a jumble, but a well-organized jumble. There are stools everywhere for you to sit and try stuff out. Picks? They've got open cases of single picks on the counters. You grab what you need and pay by the pick. Remember those days?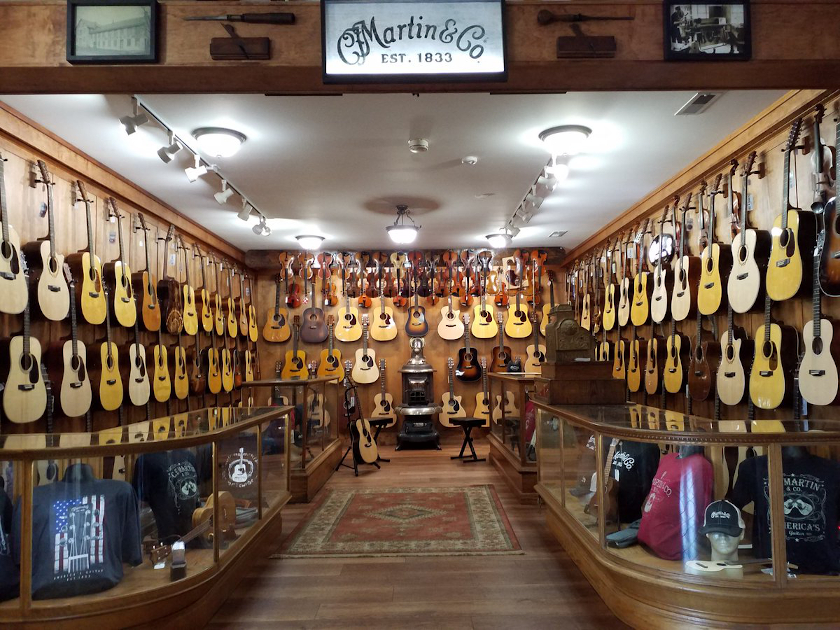 To your left as you enter the building is the Martin room, their pride and joy. There is a really good representation of the Martin line, everything from the inexpensive ones to possibly the largest collection of Martin Custom Shop creations, each of which was designed by the staff at Music Outlet. All the Martin instruments (and there are many) are hanging behind those oak and glass counters but there is plenty of staff and stools are everywhere. A staff member set me up with a stool and a pick and let me try several guitars, each time giving me plenty of time to "grok" the guitar. They were just attentive enough that I didn't get lost, but relaxed enough that I didn't feel hovered over. They were also friendly, casual, welcoming people who have developed relationships with all their local clients and do a lot of laughing with them. As I had hoped, I did indeed have the opportunity to compare OM-28 examples to 000-28 examples. These two guitars share a body but have different neck scales. I found that the 000-28 had the attractive, gentler string tension of a shorter-scale instrument and had a more focused, midrangy tone as well. The OM-28 had stiffer string tension but had a bit more top-end shimmer than the 000. This was the comparison I was hoping to find. I decided that one day in the future, if I had the opportunity to own one but had to decide between the two, I'd start with the OM-28.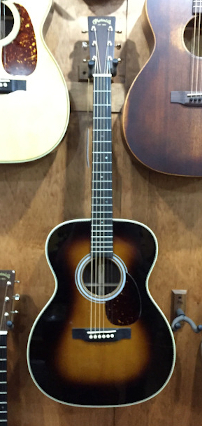 THE GUITAR IN QUESTION
Then my eyes fell on a particular OM-28 Standard "Reimagined" that was hanging on the wall, finished in Martin's 1935 sunburst. When the guys pulled it down I found that it was extremely light and resonant, had that classic Martin sound, and a great action - it played very well. According to their literature, Martin has basically applied their most popular tweaks to the classic OM body, including scalloped and forward-shifted bracing. They've married that body to a modern neck with a "modified low oval" profile and a fingerboard with a 1 3/4" nut width, making this a guitar that serves fingerpicking well. The impression it gave me was of a Martin-sounding guitar that played like a very good Taylor. While the classic Taylor sound is heavy on the individual-string definition and less on the chord cohesiveness, this guitar has quite a bit more chord cohesiveness than the Taylor while still holding onto good individual-string definition. Got that? The sound is "rounder," if you will, without some of the upper-mid response you expect from Taylor. I spent a good while "visiting" it and trying to get to know it. Then I compared it to another OM-28 in amber burst. This particular dark 1935 sunburst example had it all over the amber sunburst example: clarity, sustain, playability, strength, and cohesion. It sported a couple of very nice dark pieces of ebony for the fingerboard and bridge. The finish was very much like the Gibson "Vintage Sunburst" but darkened down a bit further, which I love. The top and back inlays were the traditional bold herringbone for the front and multi-stripe for the back. The appointments are quite a bit more striking in person than typically represented in photos, and I was deeply impressed.

THE SITUATION CHANGES
Now, up until that point I was just casually doing research on guitar types, "sniffing around," if you will. While I sat on one stool and played the dark sunburst OM, my wife settled on another stool across the aisle from me, closed her eyes, and listened intently. After a while she opened her eyes and said, "I like this guitar. I generally don't like sunbursts but I like this dark one. What does it cost?" I shrugged and got a quote from the salesman. My wife closed her eyes again and listened for a while. Then she said, "How can we make this happen?" Whoa!!! Wait a minute! I was just there to play and compare these Martin models. I hadn't really anticipated this development at all. I thought about it for a minute and replied, "I have no idea."

I played. She listened. After a bit she said, "I suppose it will have to be your big Christmas gift." Wow. Still, I approach large purchases slowly, so I wasn't ready to throw down the big pesos without doing a little more research. We let the shop close for the weekend and went back to our reunion, which was very pleasant. I spent some spare time that night doing more research on the Internet and found that the price we were offered was far lower than the best price I saw anywhere else. My wife closed the deal for me, saying, "It is your fortieth anniversary in the recording industry. Let's do this." Amazing. I walked on air for the rest of the weekend. Thank you, sweetheart!

So, on our way home we stopped in at the shop and closed the deal. I got the dealer to switch out the standard Martin TKL injection-molded case for a Martin-branded TKL plywood case so that it would play nicely with my other guitars. Their technician installed the endpin on the spot before we left. I made sure to act surprised when it appeared under the tree on Christmas morning.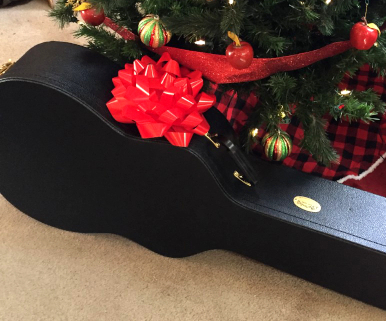 IMPRESSIONS, CONCLUSIONS, AND REFLECTIONS:
As of publication of this article I've had the guitar for five months, long enough to get past the honeymoon period and get down to brass tacks. I've had a chance to get to know the instrument pretty well, and in that time the guitar's sound has also had time to mature and settle in a little. You see, from the production and shipping labels on the box, this OM-28 was less than two months old when I found it in the store. I purposely waited to write this report because so many reviews amount to, "I just got a new guitar and I am STOKED!" So what is it like? There's a wonderful woodiness to the sound of the guitar. Though Taylor's Indian rosewood instruments tend to be a bit more jangly than the rest of their line, this instrument isn't jangly at all but instead is a bit more mellow than many Taylors. The top-end is still there but the upper-mids are moderated as you might expect from a cedar-topped Taylor like my K14c. The useful right-hand playing area is a bit extended when compared to a Taylor as well. You know how you can change the sound of an acoustic guitar as you move the location where you pick or strum? I've found that my classic Tayors become a bit strident as you move from approximately the center of the sound hole, back towards the bridge. On this guitar that useful playing zone extends a bit further back towards the bridge than it does on the Taylors. As you move upwards towards the fretboard, the sound becomes warm, round, and rich. Also, and I didn't expect this, the guitar also becomes sweeter as you capo up the neck, very much like the Taylors do. So many people had complained about their guitar's tone as they capoed up that I thought the sweetness was only a Taylor thing. Surprise! Maybe by some fluke I just tend to choose guitars like this.

Since acquiring the OM-28, I've also had a chance to spend some time with a new Taylor V Class 814ce rosewood/sitka grand auditorium guitar. That was an interesting experience! Bob Taylor has always said that no matter what he did to his designs, they always "came out of the oven" sounding like a Taylor. And with Andy Powers now at the design helm, Taylor seems to have worked on rounding out the more strident aspects of their rosewood guitars. The one I played had a very pretty top end over a smoother midrange than their previous ones. Still, by contrast, this Martin OM just seems, um... "woodier," for lack of a better description. As far as I am concerned the difference amounts to "horses for courses." I'm not a man who loves Mr. Maggie and hates Mr. Knorr. We can all live together with our different tastes and uses. In fact, some of us, like me, like both sets of tastes. My wife has trained musical ears. When she compares the sound of the OM-28 to that of the Taylor 312e 12 fret short scale grand concert, she says the OM sounds "more complete," referring to the more developed bottom end and roundness it possesses. I think perhaps this guitar might be a little more adept at vocal accompaniment than the Taylors are by virtue of that rounder, deeper sound.

The body size is right between Taylor's grand concert and grand auditorium sizes, though the weight is more comparable to the smaller Taylor grand concert. The guitar sits comfortably in the lap and resonates beautifully against your chest and leg. The action is pretty darned comfortable, most likely because the guitar was Plek'd at the factory. Nevertheless, I might still take it to my luthier to have the height at the nut dropped a little. Might. That's to be expected with me. The frets are reasonably tall, in a modern sort of way. The string spacing over the fretboard allows sure fretting on the lowest and highest strings. When I first started sniffing around the OMs I was warned that Martin's slightly smaller 2 5/32" spacing at the bridge might be a problem to me after playing Taylor's 2 3/16" spacing for a long while. While I could feel the difference, I easily adapted to it within a couple of weeks.

There are little touches that let you know that the guitar is hand-built, but the fit and finish are excellent. The grain of the Indian rosewood back and sides is marvelously straight, showing off just how high in the grading pile it came from. There's nice silking to the spruce top as well. One little thing: the specs list the neck as being made from ""Select Hardwood." Hmmm... This example's neck is clearly mahogany. Do you suppose they are preparing for supply chain or hardwood supply issues? Aside from that, one interesting little nod to tradition is the diamond volute on the back of the headstock. The diamond volute was originally applied to make Martin's traditional "V" joint between neck and headstock more rugged. This guitar has a one-piece neck and headstock so the volute isn't really needed, but it is there as a reminder of Martin's traditions. Another couple of nice nods to tradition are the herringbone top inlay and the alternating multi-stripe back inlay.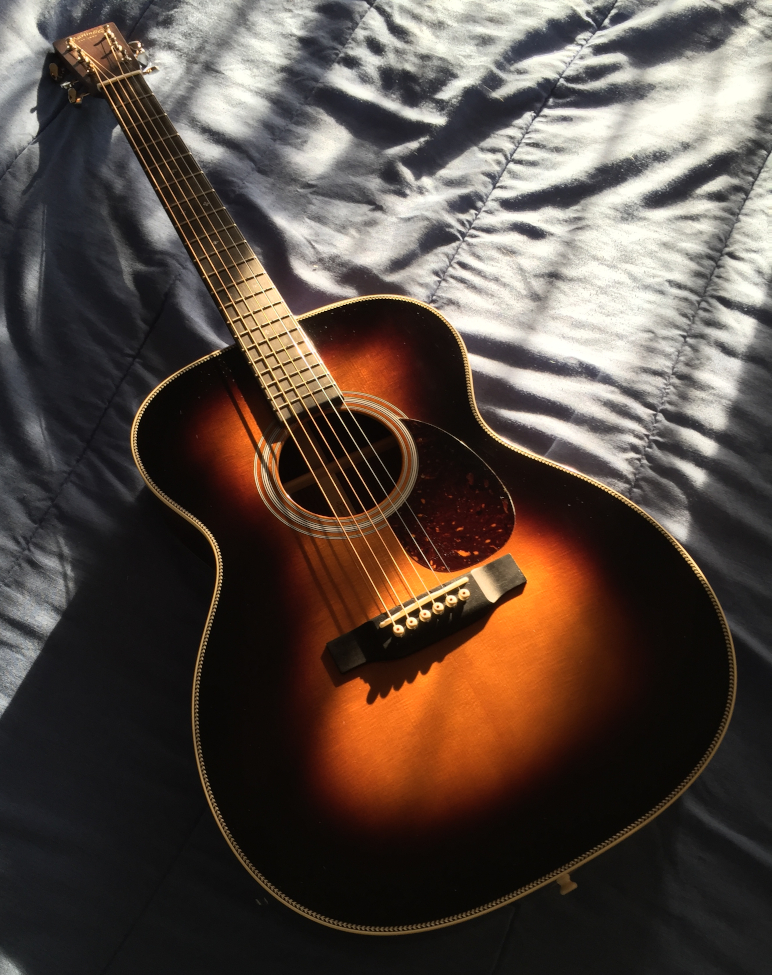 Many players, myself included, revere the old Martins, and with good reason. As I did the research for this article I watched an interesting vlog featuring respected vintage guitar expert George Gruhn. George said that despite the fact that people love the old Martins and pay premium prices for them, the ones they are making today are probably the best they've ever made. That was fascinating to hear, coming from a collector and vintage dealer, and inspires confidence in a new Martin owner. It is certainly born up by this example. So, there you go: The Martin OM-28 Standard Reimagined is a wonderfully well-rounded instrument that is comfortable, sounds great, and is easy to play, for both fingerstyle and strumming.



SPECIFICATIONS: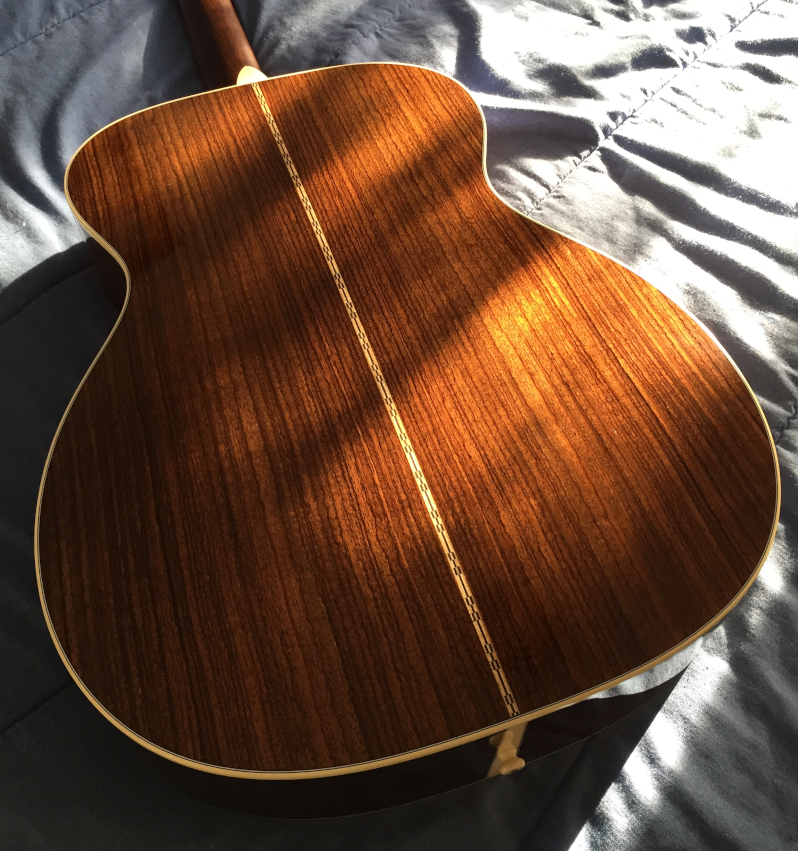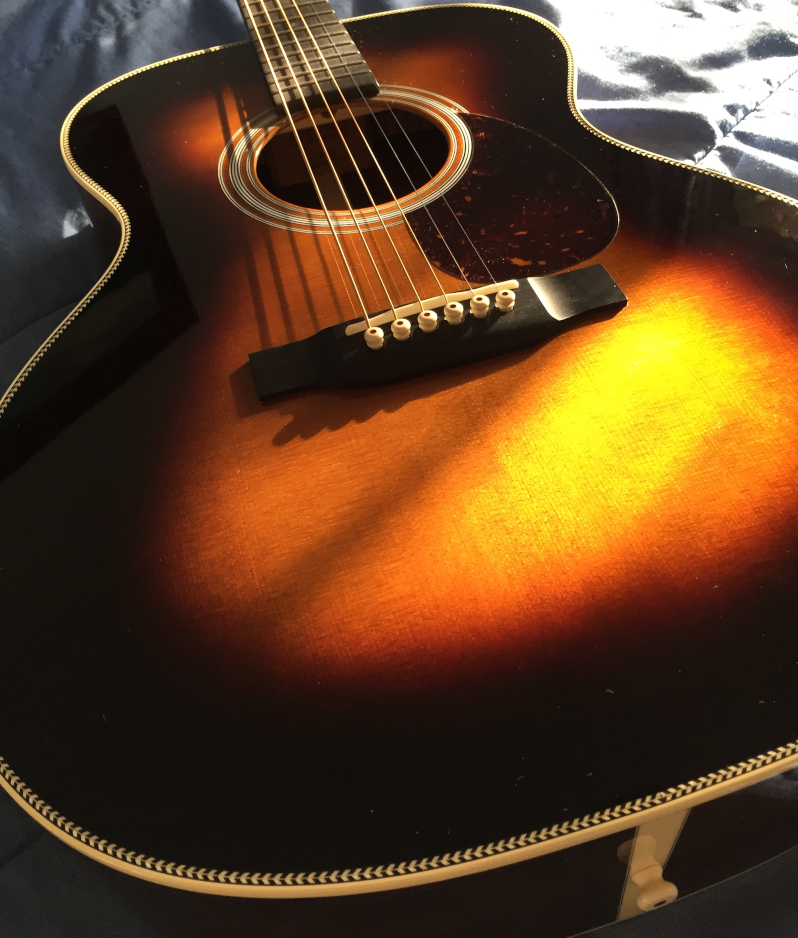 Specifications - Top
Top Color: Aging Toner
Binding: Antique White
Top Inlay Material: Bold Herringbone
Pickguard: Tortoise Pattern
Rosette: Multi-Stripe
Bridge Material: Ebony
Bridge Style: Modern Belly
Bridge String Spacing: 2 5/32"
Bridge Pin Material: White Plastic
Bridge Pin Dots: Faux Tortoise
Saddle: Compensated Bone
Saddle Radius: 16"

Specifications - Body
Body Size: 000-14 Fret
Top Material: Sitka Spruce
Back Material: East Indian Rosewood
Side Material: East Indian Rosewood
Top Finish: Gloss
Back and Side Finish: Gloss
Bracing Pattern: X-Brace
Brace Shape: Scalloped
Brace Material: Sitka Spruce
Brace Size: 1/4"
Back Purfling/Strip: Style 28
Back Inlay Material: Multi-Stripe
Heelcap: Antique White
Endpiece: Antique White
Endpiece Inlay: Multi-Stripe
Electronics: Optional

Specifications - Neck
Construction: Dovetail Neck Joint
Scale Length: 25.4"
Fingerboard Width at Nut: 1 3/4"
Fingerboard Width at 12th Fret: 2 1/8"
Number of Frets Total: 20
Neck Joins Body At: 14th Fret
Neck Material: Select Hardwood
Neck Finish: Satin
Neck Color: Dark Mahogany
Fingerboard Material: Ebony
Fingerboard Inlay Style: Diamonds and Squares Short Pattern
Fingerboard Inlay Material: Abalone
Side Dots: White
Neck Shape: Modified Low Oval
Neck Taper: High-Performance Taper
Specifications - Headstock
Headstock Shape: Solid with Square Taper and Diamond
Headplate Material: East Indian Rosewood
Headplate Logo Style: Script Old Style Overlay
Nut Material: Bone
Tuning Machines: Nickel Open Gear
Knob: Butterbean

Specifications - Misc
Case: Molded Hardshell
Left Handed Availability: Yes
Pleked: Yes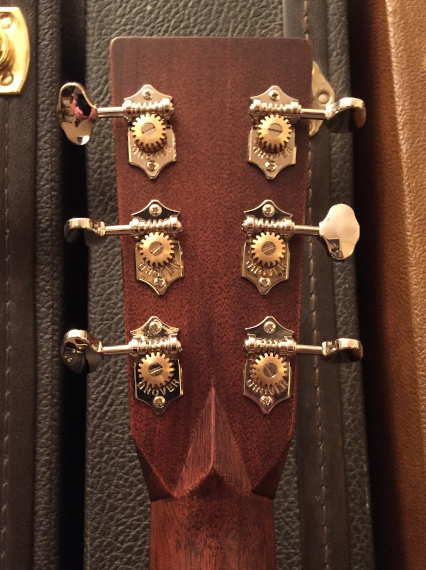 Martin OM-28 Standard Reimagined Page


MARTIN.COM




UPDATE 07/22/2022
As I often do, after we'd settled in, I took the OM-28 along to my luthier/tech, Kenny Marshall, for a setup. Kenny was able to optimize the action quite a bit, taking it down a lttle overall and making it much more consistent overall. It is a weird paradox: I'm never surprised that Kenny can improve the playability of an instrument but I'm always amazed at how much more comfortable that he is able to make an already-comfortable guitar. Got it? Right. What was a pretty good action before became an exceptional one.






=

=