MUSICIAN'S ROOM: A MINI Order Journal

---








This account is provided to give you an idea of the ups and downs of ordering a MINI. Note that during delivery, four tracking aids were used: The MINI Owner's Lounge, MINI Customer Assistance (ASKMINI), My Dealer and Motoring Advisor, and the Wallenius Wilhelmsen cargo tracking website. Their data often conflicted, leaving me to try to keep the data in balance.


---

2002

Saturday 11/16: &nbsp &nbsp Test drove a MINI and MINI Cooper S at Checkered Flag MINI
&nbsp &nbsp &nbsp &nbsp &nbsp &nbsp &nbsp &nbsp &nbsp &nbsp &nbsp &nbsp &nbsp &nbsp &nbsp Met Motoring Assistant Colleen Malebranche
Thursday 11/21:&nbsp&nbsp &nbsp Joined MINI2 forum for info
Monday 11/25:&nbsp &nbsp &nbsp Test drove MINI Cooper S with Dad
Friday 11/26: &nbsp &nbsp &nbsp &nbsp Test drove MINI Cooper S with youngest son
Tuesday 11/30:&nbsp &nbsp &nbsp Test drove MINI Cooper S with oldest son
Dec. 2002 -
Jan. 2003: &nbsp &nbsp &nbsp &nbsp &nbsp &nbsp Test drove MINI Cooper S with my wife about every other week


2003

Monday 01/20: Ordered MINI Cooper S:
================================================================
Chili Red, White top, stripes, and mirrors,
Panther Black Leatherette Upholstery with Panther Black interior door casings, Silver Dash,
Harmon-Kardon 8-speaker Hi-fi, Silver wheels, MINI alarm system, 4 Valve stem caps,
Black carpet floor mats, Boot Net, Sun shade, Outdoor MINI cover

Combo Package #1 Premium: Multi-function steering wheel, Dual-pane panoramic sunroof,
Automatic Air Conditioning, On-board computer

Combo Package #2 Sport: Dynamic stability control (DSC), Front fog lamps,
17" alloy S-spoke wheels, 195/55R-17 run-flat all-weather tires,
Xenon headlights w/washers, White bonnet stripes

Combo Package #3 Cold Weather: Heated washer jets, Heated mirrors, Heated front seats
================================================================

Week 1

Wednesday 1/22:&nbsp Received production number and accessed MINI tracking site. Estimated 2/21/03 production date

Friday, 01/24:&nbsp My car's specs arrived at MINI and were posted on tracking site

Saturday 02/01:&nbsp Test-drove MINI CVT (unimpressed) and was informed that we've moved from 111 (can be altered) status to 112 (may or may not be altered) status
---

Week 2

Tuesday 02/04: Called MINIUSA. Was informed that we are scheduled for production, week of 2/21/02.

Friday 02/07: Test drove MINI Cooper S with my wife, youngest son, and his girlfriend. Tested handling and acceleration
---

Week 3

Tuesday 02/11: Won solid aluminum shift and brake handles from RSPEED.COM, via a MINICooperOnline offer. The Rspeed people are nice folks!

Wednesday 2/12: MINIUSA website listed us as SCHEDULED FOR PRODUCTION.

Thursday 2/13: Rspeed handles arrived. They're very nicely built!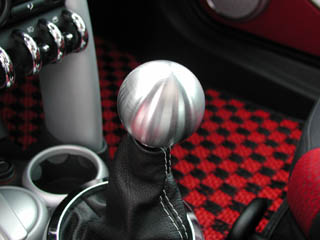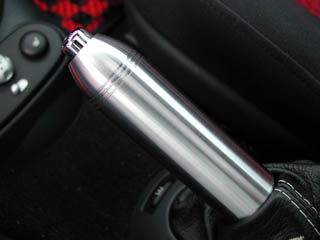 Saturday 2/15: First noticed posting of my VIN at Owner's Lounge
---

Week 4

Wednesday 2/19: Status 152 ("PAINTSHOP"-production begins) What an amazing thing to know your vehicle is in the process of being built, as it happens.

Thurs.-Sat. 2/20-2/22 On a short vacation in Williamsburg, VA. A short second honeymoon. It was a very nice, relaxed retreat while the car was being built.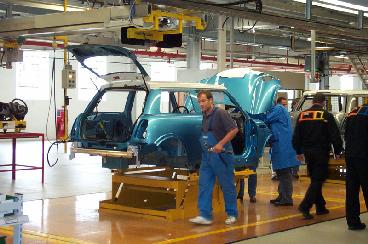 A MINI Cooper S on the Assembly Line, about to receive its dash.
Click on image for a larger view.



Saturday 2/22: Posted on Wallenius Wilhelmsen as arrived in Southampton 2/22/03 @08:37, passage having been booked 01/10/03, vessel: Jingu Maru, voyage: EQ306-JGM, Departs Southampton 3/02- Arrives NY 3/11
~also~
In the evening, Car Status at Owner's lounge went to 182 "AWAITING TRANSPORT"
---

Week 5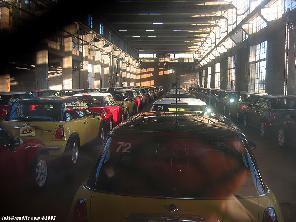 MINIs awaiting transport, supposedly at Southampton.
But look at the NJ license at the left.
Click on image for a larger view.



Monday 2/24: Surprise!!! Received an email from Colleen stating that my car would be arriving at NY on 3/5. Checked on WW and I've been bumped up to the Tosca, voyage EQ305-TOS, departed Southampton 2/24 (today) arriving NY 3/5
Jesse James chopped a MINI into a huge snowmobile on "Monster Garage" tonight.

Tuesday 2/25: Surprise!!! Surprise!! Reposted on Wallenius Wilhelmsen as booked on Jingu Maru, voyage:EQ306-JGM, Departs Southampton 3/02- Arrives NY 3/11

Friday 2/28: Selected the final electronic memory options for my MINI so the dealership can set them. Test drove the Cooper S again. Wow! What a car.

Saturday 3/1: I visited Checkered Flag BMW's Parts Dept.

WW shows the Jingu Maru as sailed from Bremerhaven to arrive, load, and depart Northampton 3/3, and arrive NY 3/12. Space available is not indicated.
---

Week 6

Monday 3/3 WW shows status "LOADED ON VESSEL" @11:35 with no asterisk for space available.

Wednesday 3/5: WW shows Jingu Maru to arrive NY 3/13. Jingu Maru showed up on the "Marine Observations" section of the Oceanweather site.

Friday 3/7: Owner's Lounge listed the car as En Route. I don't know why, but it is thrilling to see something I already know show up in print!

Saturday 3/8: Went on the Déjà vu Run with twenty MINIs! Drove around Williamsburg, Jamestown, Yorktown, and Surry, and had a blast. Met all kinds of nice people and learned a bunch.
---

Week 7

Monday 3/9: Last notice of Jingu Maru on Oceanweather and Accuweather

Thursday 3/13: Jingu Maru jumps to arrival date of 03/13 (Today!). Test drove the MCS with Amy Grant on the stereo. Lovin' it! Asked about auto unlock option. See below for the result.

Friday 03/14: Jingu Maru shows as having docked at NY and sailed from NY.

Saturday 03/15: I took my wife CVT shopping. She liked "Sport shifting" mode.
---

Week 8

Monday 3/17 A.M.: ASKMINI listed the car as unloaded on 3/14 but not at VPC.

Monday 3/17 P.M.: WW listed the car as DISCHARGED in New York on 3/14 at 4:00pm. Colleen said "Auto Unlock" is an option and asked if I wanted it. (Yes!) Added it to my electronic options.

Wednesday 3/19: Today I found out I'm probably a diabetic after uncomfortable symptoms for a long while. Colleen says the car is at the VPC but it is showing "En Route" on the Owner's Lounge. Any day now it could be released to a carrier. Expect a two-day trip from there!

Thursday 3/20: Last night, Iraq War II began with a surgical strike. Today, the car showed up on the owner's lounge as "AT VEHICLE DISTRIBUTION CENTER". Getting close.

Friday 3/21: Colleen called me at work at 1:50pm. It rolled off the truck today. I've got to decide on the CD changer and when to collect it. The final negotiations have begun, with a balance between CD Changer and Finish protectant.

Saturday 3/22: I SAW IT! I sneaked in and shot a few shots at the prep lot at BMW. I secured financing with my bank at a rate my dealer couldn't match. Decided to stick with the original order and maybe I can get a CD changer later.
---

Week 9

Monday 3/24: Spent spare moments this morning on the phone with Colleen, trying to get the car delivered. No joy! When my wife got home, we went to the dealer and borrowed their MINI to get a driving fix. Drove down to the BMW site and took a look at my car: They've added the alarm, antenna, and the accessories. Time for detailing and finish protectant! The car is marked for delivery on 3/25.

Tuesday 3/25: At 8:50pm, I TOOK DELIVERY! It looks great. Almost everything is exactly as I hoped. Well, they did forget the boot net. Dealer came up with the lowest financing at the last minute. The family and I went to Chick-Fil-A for supper at 9:30pm then I took my wife out for a drive on Elbow Road.
---



To continue with the journal after the delivery, click HERE.